Reshma Krishnan is a travel writer and novelist based in Mumbai, India. Her writing has appeared in publications such as National Geographic Traveller, India Today Travel Plus, Harper's Bazaar, and The Hindu. She is also the author of Fade Into Red (Random House India, 2014).
"All my work tends to have its own soundtrack, especially the novels," says Reshma. "This helps when I lose track of the voice or the feeling I want to evoke in the book. For instance, at the moment I have Grouper's 'Heavy Water' on loop. When I listen to it, I am instantly transported to a scene in my head that sums up the tone of my novel; it's like a reset button."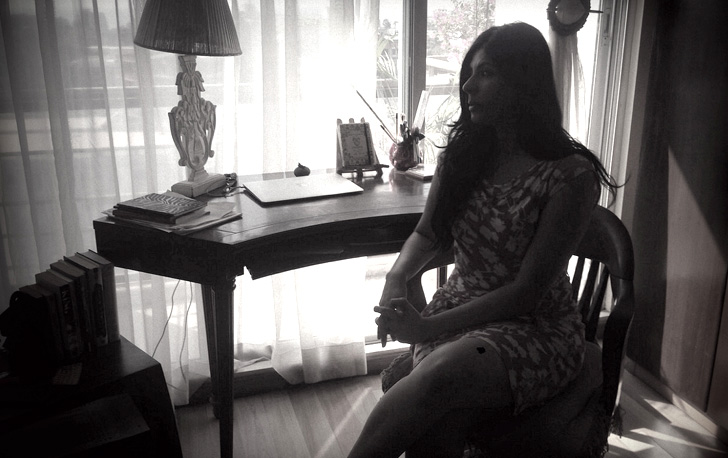 ABOUT HER WORKSPACE
"My study overlooks the ISKCON temple, and beyond that, a sliver of the ocean which can range from a muddy brown to a lovely silver and sometimes even a deep orange. Let me begin with a 360-degree swivel, if you will, from my, well, swivel chair. Going anti-clockwise from my desk which faces sliding windows, we come to my little printer side table that holds my reference books and any others that I am currently reading. My Bible — Stephen King's On Writing, is always at my side and I read it every three to four months. Currently I also see Grammar for Grown Ups, The Woman in Black by Susan Hill, and an eerie white ceramic hand that holds my jewellery; the white hand was the only thing I could afford from Le Mill. The printer side table also houses my sound dock which streams music 24/7, most times classical, sometimes rock.
"From there, we move towards the left, skip the door to the washroom, past the old guitar, and come to my pride and joy — a floor-to-ceiling teak bookshelf that somehow never seems to look like the way bookshelves do in interior design magazines. It seems to be eternally cluttered. Adjacent to that is a grey couch which works overtime as a bed for clothes. Then you have a door leading into my study, a Yamaha piano at the entrance to my room (I play terribly), my wardrobes, and we are back at my desk, which is a modern replica of a turn of the century American colonial telephone table with fluted legs and a pull-out keyboard platform, harking back to the days when people used giant keyboards.
"If I ever meet J. K. Rowling, I would like to ask her how on earth she wrote all those books at a café."
"I work on a MacBook Pro and write in countless slim notebooks. The nature of my work is very fluid and I work on multiple projects at the same time, which means that I am always behind on something. I freelance for magazines and so spend mornings writing articles or pitching for work. I teach finance on the weekends so many weekday afternoons are usually spent grading assignments or handing out new ones.
"The work that suffers the most is my novel writing because its deadlines are always flexible and the writing is happenstance and erratic and usually in notebooks. Somewhere, my agent is glaring. So I actually spend a lot of time transcribing written notes into the computer. The book stand comes in very handy; it is not just a pretty desk prop. If I need a break I play a ditty on the piano, nothing helps me get into my zone better and get my concentration going. My study is my true work space and I am beginning to realise, a luxury. I find that I don't work as well anywhere else. If I ever meet J. K. Rowling, I would like to ask her how on earth she wrote all those books at a café."
GALLERY