In 2008, designer Tina Roth Eisenberg, best known on the Internet as Swissmiss, started CreativeMornings, a series of monthly events for New York City's creative community. The idea was for an event to take place on one Friday morning every month, featuring breakfast and a short talk by a selected speaker.
The series of events soon proved to be extremely popular and quickly grew beyond New York and the United States. Chapters have been started all over the world by volunteers, and over the past six years, the list of speakers has included everyone from "design legends to hometown heroes". Many have even described CreativeMornings as "TED for the rest of us".
Amishi Parekh and Jasem Pirani, designers living and working out of Mumbai, kickstarted the Mumbai chapter of CreativeMornings last month. Here are excerpts from a quick chat with them about the future of the initiative in Mumbai —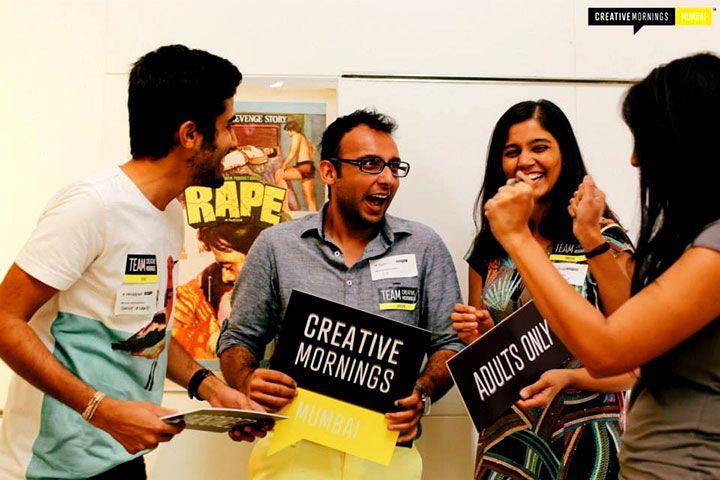 What was the motivation behind organising CreativeMornings in Mumbai?
Jasem: Amishi was studying at Central Saint Martins in London, when she first started attending CreativeMornings events there. When she moved back to Bombay in 2013, she really felt the need for a platform for people across diverse creative disciplines — as well as those outside of the creative industry but with a keen interest in design — to come together and cross-pollinate ideas, if you will, and have an ongoing discussion around themes and issues that affect us all.
Amishi: In Bombay, a lot of us work six-day weeks, and as we ourselves have experienced, it's easy to get stuck in a soul-crushing routine even if you are in a creative field. There are not as many avenues for inspiration in Mumbai as we would like, beyond looking on design blogs and sites. As necessary as it is to follow the community online, there's no replacement for seeing people in your local community face-to-face, to talk about things only they can relate with.
We also need to build a stronger culture of sharing work and insights from professional experience, and casting a broader net beyond our immediate network of friends and coworkers. Furthermore, students could certainly benefit from exposure to established figures in design at an early stage, to develop their ability to think conceptually and critically.
Tell me more about the people behind the Mumbai chapter of CreativeMornings.
Amishi: When I moved back from London to Mumbai in October, I talked to Jasem about setting up CreativeMornings chapter here. We worked on the application together as well. So Jasem and I have been doing it from the start but we're really lucky to also have Payal Shah on the team, who joined us before the first event. She is Director of Brand Research at Happy Thinking People India. Tina Nandi Stephens is our photographer. The team's come together quite organically. And we have a rotating group of volunteers who help us out when they can. We are also grateful for the generosity of friends without whom we wouldn't be able to do any of it!
"We always emphasise that CreativeMornings talks are informal and casual — no stuffy lectures, no five-star banquet halls, please."
Filmmaker Ashim Ahluwalia (Miss Lovely, John and Jane) was the featured speaker at your first event, and you have Sameer Kulavoor from Bombay Duck Designs scheduled to speak at the upcoming event at Café Zoe. How do you choose your speakers?
Amishi: The great thing about CreativeMornings is that we are part of this amazing global initiative. Every month there's a different theme chosen by one of 80 chapters, and the rest of the cities follow suit and design their events to fit that theme. The theme for May is Freedom — a pretty big topic, that can be interpreted in so many ways.
We are so excited to hear Sameer speak next weekend! As designers, we often struggle between client (read: paid) work and our own pet projects that give us the freedom to create anything we want. Sameer seems to have found a way to make this work for him. He's really pushed the boundaries in the design field, especially through his own self-initiated projects. The Ghoda Cycle project and his method of exploring Indian archetypes are just brilliant.
What sort of venues do you think are best for this sort of event?
Amishi: We always emphasise that CreativeMornings talks are informal and casual — no stuffy lectures, no five-star banquet halls, please. Typically we have around 60-100 people, so we look for spaces that encourage creativity, and attendees from all walks of life are welcome to attend for free. Another important factor is accessibility; we try to look for places that are easily reachable via public transport. This month's talk is at Café Zoe, easily one of our favourite hangouts in Bombay.
What have been the challenges you've faced with putting the event together so far? Do you see this as a long-term initiative?
Amishi: Like any new initiative, we've faced our fair share of challenges. Nothing extraordinary to speak of — we've been quite lucky so far and the response from the community has been tremendous and so welcoming. We absolutely see CreativeMornings becoming a permanent fixture in Bombay.
(The second CreativeMornings event in Mumbai takes place at Café Zoe in Lower Parel on Saturday, May 31, 2014 at 10 a.m. Click here to register and learn more about the event.)