"I have the least amount of talent in this band. I feel no shame in admitting that," says Vinay Venkatesh, as he speaks about his role in Bhayanak Maut, one of India's most well-known metal bands. "I'm just the face of the band, and that works for us." Standing tall at 6'2", with a rather impressive beard to boot, Vinay can seem a tad intimidating to people who meet him for the first time. Once you spend some time with him, however, you quickly realise that he is one of the most gentle and affable people you will ever meet.
Outside of Bhayanak Maut, Vinay has worked in advertising for nearly a decade, and even ran his own design agency for a while. He is currently the Creative Director — or the Bearded One, as he likes to say — at Oranjuice Entertainment, a Mumbai-based event management firm. Read on for excerpts from a conversation with him about self-discovery, painting, belonging to a 'scene', and the upcoming Bhayanak Maut album —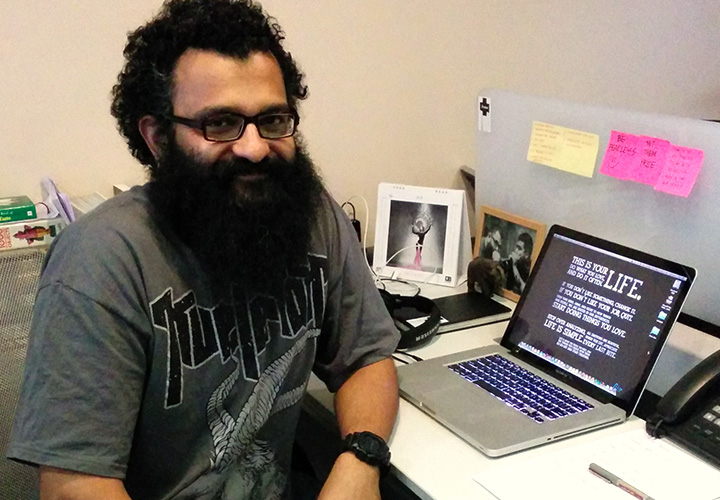 What is the one thing you wanted to be, growing up?
Rich (laughs). Seriously. I didn't know what I wanted to do with the money, but I knew that I wanted a lot of money. I think that changed only when I finished my B.Com. and got a job — that's when I realised that money comes and money goes, and that being happy with what you're doing matters a lot more.
Did you grow up in Bombay?
I was born in Bombay, but before I turned two, my family — mom, dad, my elder brother, and I — moved to Venezuela. I was in Venezuela for about five years, and then in the U.S. after that for about a year-and-a-half. I moved back to India in 1985.
So you were just about getting started with school around then?
Yeah, I came back to India when I was in second or third standard. It was such a fucking shock, man.
(Laughs) Do you still remember your time in Venezuela and the U.S.?
Absolutely. I have some great, great memories from Venezuela. Memories of swimming — that's where I learnt swimming — and school and a lot of incidents that took place in Spanish. I don't exactly remember what I said or what was said to me, because I don't remember any Spanish now, but I remember how I felt at the time.
What schools did you go to in Bombay?
I started out at Sacred Heart High School in Vashi, which should actually just be renamed Vomit Bucket (laughs). Yeah, it was really, really bad. My brother and I begged our parents to take us out of the school. After that, both my brother and I ended up studying in the same schools that our parents studied in. My mum studied at Mother's International in Delhi — I did one year there — and my dad went to Don Bosco in Matunga (Mumbai), which I attended for four years.
Did you like those schools better?
Don Bosco was fantastic. I lived in Vashi at the time, and for the first three years [of being in Don Bosco], there weren't any B.E.S.T. buses around, so my brother and I had to take one of those State Transport buses to school. Commuting on my own was a great experience. The only piece of advice my mum gave my brother and I was, "Look, that Vashi bridge might just collapse any day. If the bus falls in the water, forget your bag and everything else, just swim to the shore."
(Laughs)
Seriously, that's all my mum told me. But yeah, travelling alone really helped me learn how to be by myself, to deal with pocket money and public transportation. I loved it.
"The only piece of advice my mum gave my brother and I was, 'Look, that Vashi bridge might just collapse any day. If the bus falls in the water, forget your bag and everything else, just swim to the shore.'"
Were you a good student?
Very average. I didn't take to languages very well, I didn't take to math and science very well. I loved history and geography, and I topped my class in those subjects every year. I wasn't really into sports, either — I was as lazy as you can get. After school, I should have done a B.A., but I ended up doing a B.Com. and sort of regretted it.
Which college did you go to?
I went to R. A. Podar College in Matunga. I chose the college solely because my best friends from school had decided to go there (laughs). I fucking hated my B.Com. course. Having said that, I had five really great years at Podar. Some of the friends I made then are still my best friends today. I think all of us were complete assholes in those days. I mean, really, we were just horrible people (laughs). But I think that's what helped us to survive those five years in college.
Did you start working immediately after college?
I remember, the day after I gave my last B.Com. exam, I joined Crossword (bookstore). It was my first job ever. This was back when there was just the one Crossword at Bhulabhai Desai Road.
What was it like working at Crossword?
It was a blast, man. I really enjoyed it. I actually built the music section at the store. I was paid ₹5000 every month — it got me through the month and I learned a lot. But after a year of working there, I realised that if I wanted a better job, I needed to get a master's degree.
I decided to pursue an M.M.S. (Masters in Management Studies). I gave the C.A.T. exam, and dog ho gaya (laughs). I knew I was going to fail the exam, but gave it anyway, and got fucked. I gave the Maharashtra C.E.T. as well, which went a lot better. I got a decent rank, and got into S.I.E.S, Nerul.
Did you enjoy your time at business school?
I hated it (laughs). But my parents and I had very little money at that point of time, and doing the course at S.I.E.S. was financially viable. I needed the degree and just wanted to get it over and done with.
The good thing about going to S.I.E.S. was that I met my now ex-wife Deepa there. While doing the course, I also got in touch with Alok Nanda, who had started Alok Nanda and Company (A.N.C.) with his wife, and started working with him.
What kind of work did you do at A.N.C.?
I started out as an Account Planner. I did a lot of research on the retail brands that A.N.C. was working with. The first project that I worked on was very interesting. It was something called the Retail Navigator, a project that measured how people actually move in retail environments based on the signage placement, layout, etc., and it allowed you to simulate changes to the environment to ensure that customers went where you wanted them to. We tested this at a mall in Gurgaon and it worked very well, after which we implemented it in stores in Bombay. After the Retail Navigator was on its way, I was taken off the project and put into more of a client servicing role, which I didn't enjoy.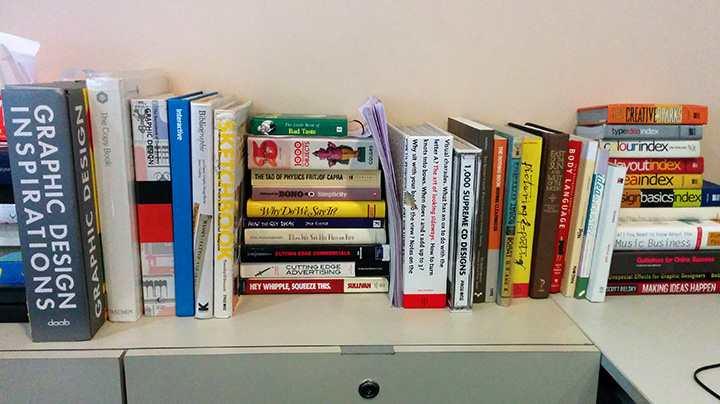 What were your subsequent jobs like?
I moved on to D.M.A., a company that specialised in packaging design, where I headed a team and again had a client servicing and project management role. I was only there for a few months, but in my time with the company, I got to work with about 40 H.U.L. brands, and frankly, some of the best people in the industry.
In around 2002, while I was employed with D.M.A., I had a horrible road accident, because of which I couldn't go in to work for a week. As soon as I got back to work, I found out that I had been fired — and I had no clue why. In hindsight, I think it was due to an issue with the lady who had just been appointed as the head of the company. We didn't get along, and I think she decided to let me go.
Was that when you started your own design agency with Deepa?
Yeah. While I was working with A.N.C., Deepa was working with Shoppers Stop. We got married sometime around then, after which she quit her job and we started our own agency called 0954. We took on graphic design and brand identity work.
I remember you telling me at the time that you named your agency after your roll numbers at S.I.E.S.
Yes, Deepa was nine and I was 54 (smiles). [Running the agency] was a good experience. The first two or three years were very tough. We made no money, but we learnt a lot. We both improved our design skills, taught ourselves to code. I always wanted to be a writer, so I started to do more of it and realised that it came very naturally to me. There was a lot of self-discovery that happened with 0954.
Did you have a proper office and full-time employees?
We worked from home, actually. It was just Deepa and myself.
What was the most challenging aspect of running your own agency?
The challenging bit was actually learning how to run a business. How to service a client, how to be diplomatic in certain situations, when to be hard-headed, how to make money. It's not something that happens overnight; it takes a lot of time. Even today, I still follow a lot of the patterns I set for myself during my time with 0954.
"I've learnt that certain things don't benefit from excessive organisation, but it's very difficult for me to break out of that way of thinking."
You're one of the most organised people I know. Your inbox is always empty, all your email is neatly categorised into folders, you use multiple calendars for scheduling stuff, along with a lot of tabs, notes, reminders, etc. Have you always been like this, or is it something you've worked on over the years?
(Laughs) Both Deepa and my ex-girlfriend (and now best friend) Eshwari have remarked on my obsessive tendency to put everything in its right place. I think my mind just works that way. I've learnt that certain things don't benefit from excessive organisation, but it's very difficult for me to break out of that way of thinking. I'm at my most creative when I'm daydreaming. I allow myself to daydream incessantly, for which I like my head to be empty. Keeping things organised frees up my mind for the stuff that really matters.
You also use Post-its to leave notes for yourself.
Yeah, on my Post-it notes, you'll see a shitload of motivational messages. To be very honest, half the time, I have no idea why I wrote what I wrote and put it up. But I've stopped questioning why I do things. I just do them. I trust that I've written whatever I've written for a reason, and when I need to remember what it means, it'll come to me.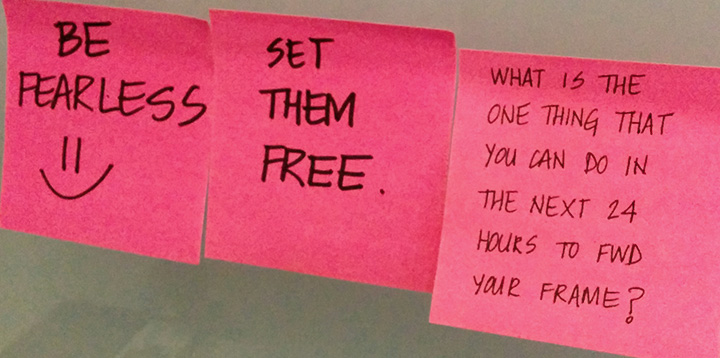 Why did you decide to exit the company that you built?
Both Deepa and I were very young when we started 0954. After about six years, I realised that I wanted something that was a lot more stable. Deepa continued working on 0954, and I got a job as Assistant Creative Director with OgilvyOne, the digital arm of Ogilvy & Mather.
Did you enjoy working in advertising?
I worked at OgilvyOne for six years, and loved the work I did there. I took to digital very, very quickly. I understood the space and I was passionate about it. But the problem with advertising, for me, is that a very small percentage of what you see in your head actually comes to life.
Do you think that's due to clients not being responsive to certain ideas, or not "getting" digital?
Most of the work you end up doing at agencies is below-the-line; there isn't too much visibility for your work. I worked on a number of high-profile brands and projects for years, but I only ended up making one T.V. commercial. In my opinion, it's nobody's fault; it's just how the business functions. Frankly, the clients that I worked with were very open to all sorts of ideas. All that they asked for in return — and rightly so — was that their targets were met. If you're a client, you're paying your agency quite a bit of money in retainer fees, so you expect the agency to work on as much stuff as possible. Personally, though, I wasn't too happy when the whole social media boom happened. That's when I think I lost interest in digital marketing.
Is that why you decided to quit O & M and join Oranjuice?
The thing is, music is, and has always been, a very big part of my life. I've always wanted to do a job which makes me money and which was focused around music. I met Owen Roncon from Oranjuice Entertainment last year, and when he offered me a job, I got on board. I haven't regretted a single moment of it. My forte is creating great experiences, and in the 10 months that I've been at Oranjuice, every idea that I've wanted to pursue has seen the light of day.
Speaking of music, you're perhaps best known as the frontman of Bhayanak Maut. In the band's early days, there didn't seem to be too much of an emphasis on a stable sound or lineup. It was supposed to be a fun project, a "troll band". I remember the first Bhayanak Maut gig at Razz Rhino, where they played as a seven-piece band. I think it was only when you joined Bhayanak Maut that I got the sense that yes, this is the band they were meant to be.
Thank you. I cannot take full credit for that. The thing is, I was the eldest member of the band when I joined Bhayanak Maut. I was 26 or 27, and the rest of the band members were 17 or 18. There were a lot of ego issues and problems due to the difference in our ages. Over the years, we've slowly transcended all that and become friends.
But you're right, Bhayanak Maut was started as a troll band. I think the seriousness finally came when we played at I.I.T. Chennai's Saarang music festival in 2004. We sucked, but we made the finals of the competition, where we sucked some more. That gig changed everything. Our lineup at the time was Jaison (Lewis, original bass guitarist), Venky, Rahul, and I, and after the gig the four of us said, "Hey, man, this feels good." I think that's what it was. It felt good, and we wanted to see how far we could go with it. We decided to concentrate on being better musicians and to be happy on stage — if something wasn't making us happy, we stopped doing it. That is also why we stopped all group sex (laughs). It just wasn't making us happy.
How did you come to join the band?
One day, Jaison, who I knew through a common friend, pinged me on M.S.N. Messenger and told me that his band was looking for a vocalist, because Shriram, the original vocalist, was leaving. He asked me if I was interested. I told him that I really couldn't sing, but he told me to jam with them anyway. I had actually seen Bhayanak Maut live once before, and thought it might be fun to give it a shot. My audition with the band went horribly, for the most part, but it was when we jammed on Deftones' 'My Own Summer' that everything sort of clicked.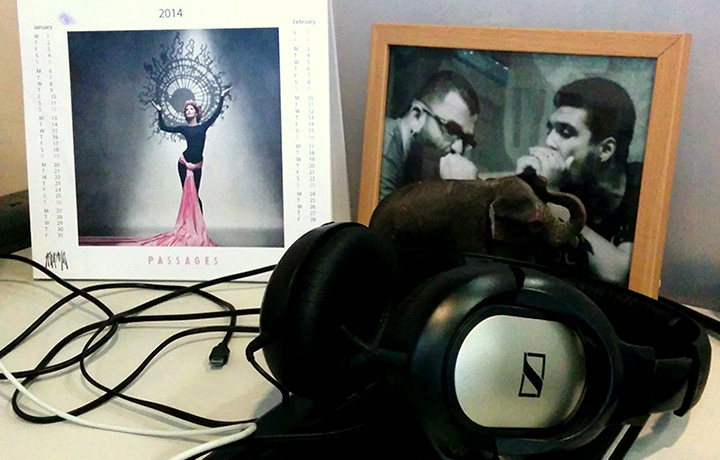 For our first couple of shows, the band made me sing a few songs. After I had butchered Tool's 'Parabola' a few times, Venky and Rahul finally agreed that I couldn't sing at all, and we decided to stop covering songs with clean vocals after that (laughs). Thank god for Sunneith (Revankar, Bhayanak Maut's second vocalist, who joined the band later). Sunneith is the guy with the talent. Even if I'm not in the picture, he is now the true voice of the band. He's really got the chops — he's even pitching his screams now, man.
That's crazy.
Yeah, it's unbelievable.
I know that you're very excited about your upcoming third album. Would you like to talk about the making of the album so far?
We've just finished recording everything on the album. It has taken us four years to write the album, and a whole year to record it.
The approach to the album is what has made it exciting for me. A few years ago, there was a period of time when Bhayanak Maut was not doing any shows, or even jamming. During this break, I really felt the need to write something. I approached Sahil Makhija of Demonic Resurrection and asked him to give me some music to write for. I was expecting one track from him, but he gave me all of 12 tracks and said that it was everything he'd worked on for the next Reptilian Death album. He asked me if I'd like to write for it. I agreed and decided to create a storyline for the album, and then broke the story up into 12 songs.

Working on the Reptilian Death album felt good — I liked the story-based approach, and I proceeded to write other stories for the new Bhayanak Maut album. That's where it began. I shared the idea with the band, and they were excited about it. Sunneith wanted to be a part of the writing process as well, and we gave ourselves one simple brief: to write stories that would make people very uncomfortable. We spent two-and-a-half years writing stories for the album, and we've managed to come up with some very depraved, dirty material.
I hope this idea works: there is going to be a book of short stories, which will be accompanied by the album. Each song on the album is connected to one of the stories, but there is a hidden meaning behind the album as well. So it's almost like a story within a story within a story. And what's going to hold it all together is the artwork. I can't wait to share it with you.
"We gave ourselves one simple brief: to write stories that would make people very uncomfortable."
Are there any stories you've written that have not made it to the album?
I think Sunneith and I wrote more than 20 stories, and only 12 of them have made it to the album. It's been a very cathartic and exciting process. I've still got one story left to write, called 'Princest', for which I've only got the skeleton ready.
A lot of people, when they refer to independent music in India, tend to use the word "scene". The Indian rock scene, the Indian metal scene, the Indian indie scene. Is it important for you to feel like you belong to a larger community of musicians, like you're part of a movement?
I don't give a fuck. I really don't give a fuck. All I care about is my band. All this scene, ween is bullshit. Everyone who says they "support the scene" — more power to them, they're free to do what they want to do. I'll be a part of what I think Bhayanak Maut needs to be a part of. As a collective, I think the six of us [in the band] think along very similar lines. We've always driven ourselves to pursue things in a way that we're comfortable with. I think Rolling Stone India gave us a 'Best Band' award a few years ago, and after that we decided that we would never submit our music for any other awards.
Why is that?
It's bullshit. It doesn't do anything for us. It's all perception. If we wanted to build a certain image of the band, we could do that ourselves. We don't need a magazine to do that for us. Those who are interested in the band will follow the band. We don't need an award to tell people that we're better than somebody else. We're not better than anybody. We are who we are, and that's all that matters, which is why I never bother with what anyone else is doing in the "scene".
"If we wanted to build a certain image of the band, we could do that ourselves. We don't need a magazine to do that for us."
You've lived and worked in Bombay for most of your life. How much do you think the place you live in impacts your creativity?
Hmm, I've never given that a thought, to be honest. I find myself painting when I'm depressed, and I'm extremely depressed during the monsoon. I hate gloomy weather, especially in Bombay, because it's wet and it smells and it's dirty. I'm a horrible person to be around for those four months, and that's when I paint and write depressing stories. That's the only thing that Bombay's given me (laughs). I think that more than the place, it's the people I hang out with who influence what I do.
If you had to choose a place outside of Bombay to live and work out of, which place would you choose?
I think Bangalore, or maybe Shillong, if I could figure out a way to live and work there. I like Shillong — it's green and it's cold, there are lots of hills around, and the cab drivers play Cannibal Corpse in their cars (smiles).
The Setup / Vinay Venkatesh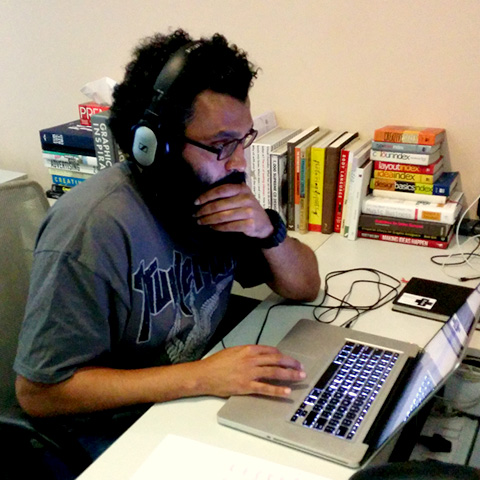 Vinay's workspace.
Laptop + Other Hardware
I've been using Apple products for quite a while now — I have a MacBook Pro, an iMac, a 160 GB iPod and an iPhone 4. The only machine I really trust is my washing machine — it's a top-loading Samsung and it has stood the test of time.
With Bhayanak Maut
I use any microphone that's given to me and worship the industrial-strength ear-plugs that I've been using for about three years now.