Pia Meenakshi is an illustrator and tattoo artist based in Bangalore. Perhaps better known as Gumani, her work is rich with magical elements and heavily inspired and driven by various aspects of nature and the wild outdoors.
Read on for excerpts from a conversation with her about growing up in Bangalore and Coorg, her early experiences with nature, India's tattooing scene, the importance of community for a creative person, and Pigmenta, a new art supplies store that she plans to open soon in Bangalore —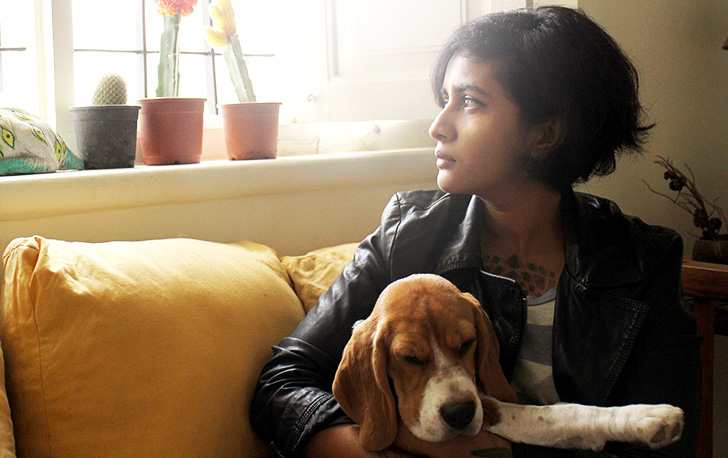 Could you tell me a little about where you grew up?
I've lived in Bangalore all my life. My parents and grandparents have a coffee estate in Coorg, so I've spent a lot of time there as well—in school, all my holidays and vacations were spent there. So, yeah, I guess I kinda grew up in both places.
What schools did you go to in Bangalore?
I studied in Sophia's and then Vidyaniketan school. After school I did a degree in graphic design at Raffles. It's the same Raffles as Singapore, but they opened a branch in Bangalore a few years ago, and I was in its first batch ever (laughs). And no, it was not nice (laughs).
Did you enjoy school?
School was okay, man. I was really bad at studies. I failed fourth grade. Yeah, they managed to fail me in fourth grade.
Were you just not interested in what was being taught?
Yeah, man, I was totally not interested. From the time I was a kid, I've always been drawing, and my parents didn't really pressurise me to study; as long as I passed they were happy.
Until fourth grade.
Yeah, and even that they didn't really mind (laughs).
(Laughs)
But yeah, it was kind of decided since I was a kid that I would grow up to pursue art. So they just encouraged me to scrape through my studies and just get on with it, basically. Through school I failed everything and struggled and struggled, and when I finally graduated, that's when everyone was like, okay, your time is done studying, now you can get on with your art.
What was it like spending your holidays in Coorg every year? What was the estate like? Do you have any siblings that you used to go there with?
Yeah, I have an older brother. He's an architect and interior designer. We used to go to Coorg all the time. There's nothing to do there, but all of us, cousins included, used to loaf around the forest and the estate. That's all we did there. There were no computers there until much later.
That sounds like fun.
Yeah. I was the only girl there, with my brother and two male cousins, so my time was spent playing army and climbing trees and stuff (laughs). It was fun. It was nice (smiles).
Did you have any neighbours?
Not really. There was a village where all the estate workers used to stay, but it wasn't exactly close by. I used to spend time there sometimes with the kids in the village. We used to play cricket sometimes or go for treks and stuff.
Did you ever try to explore the forest on your own?
Not on my own, because there was a lot of wildlife in it. The most alone I've gone into the forest is with my cousin. We were exploring the forest once, when we came across a wild boar, and somehow my cousin threw me up a tree (laughs).
Did the boar try to attack you?
The thing is, I was really young at the time, and I think my cousin was just trying to freak me out. We heard some rustling in the forest, and he told me to hide and not to waste time, and just hoisted me up the tree. There used to be a lot of wild boars and elephants in the forest. Now there aren't so many wild boars, just elephants. But yeah, it wasn't particularly safe to be in the forest on your own, and when you're a kid, you don't have a very good idea of what you're supposed to do (smiles).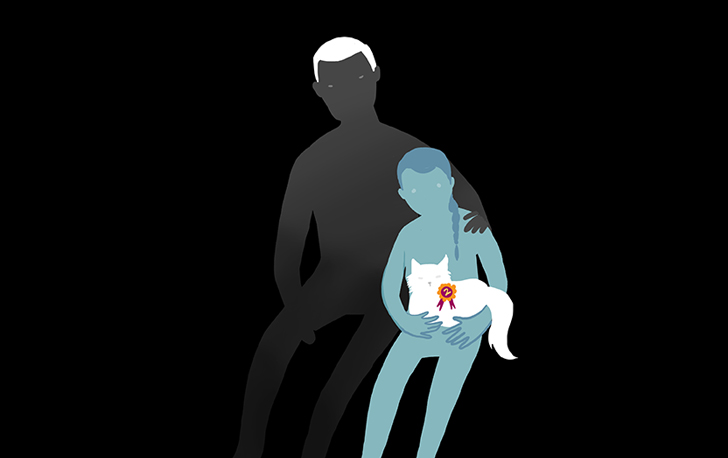 What if there had been something up in the tree?
No, man. There was nothing dangerous in the trees.
No snakes or anything?
Surprisingly, I've never seen any snakes in the forest—poisonous snakes, at least. Recently, when I went to Coorg, there was a rat snake that everyone freaked out about. But it was just a rat snake. Last year, in the room that I stayed in when I went to visit my grandparents, there was a krait in my room. I didn't really notice it—it was hiding under the rug. And kraits are really dangerous, because what they do is, in the monsoons, they get into your house and hide inside your blankets and bite you in your sleep.
Damn. Really?
Yeah, and what happens with krait bites is that they slowly kill all your muscles, so eventually you can die of a heart attack in your sleep. So yeah, that was pretty dangerous, but luckily we saw it that time.
Were you nervous about going back to sleep that night?
Actually, I'm really scared of snakes. Like, I have nightmares about snakes all the time. But that day, when I actually came across a poisonous snake, I was pretty calm. I just went and called my brother and he, instead of doing something about it, started taking photographs of it and Instagramming it, or whatever (laughs). With the rat snake, I was only nervous because we have two labradors at the estate and they wanted to chase it, which would have been dangerous for them. But yeah, I think I slept okay that night, somehow (smiles).
"Insects hold on to their form, and leave something behind even after death. I think that's really fascinating."
During a previous conversation, you had mentioned to me that your dad and you used to rescue animals often as well.
In Bangalore, my family used to stay on Racecourse Road, in this sort of private area called Fairfield Layout. It's really, really green, and has really big houses. It's funny because the road that leads to Fairfield is completely barren, but somehow this area has retained its greenery over the years. It has a lot of wildlife and birds. Growing up, we had a lot of pets in the house. At one point I had as many as seven dogs. The neighbours also used to bring us birds and squirrels and other animals, and we used to take care of them. My dad is really good with animals and he taught me how to take care of them.
Animals, birds, and insects seem to feature quite prominently in your work. Do you think that aspect of your work was sort of shaped by these early experiences?
Of course. In school, I was really antisocial. I had two friends in school, who are still my best friends—they're twins. We've been friends since kindergarten, and I used to hang out with them and no one else, and even that was only when school was on. So growing up, I was kind of a loner, and I found a lot of comfort in the outdoors and with animals. Even at home, I'd be the only one really interested in taking care of all the animals we had (and it's still that way). I've always been very sensitive when it comes to animals, because I've spent so much time with them.
What is it about insects in particular that interests you?
What I like about insects, especially butterflies, moths, and beetles… first of all, the symmetry and the patterns are just incredible. And the cool thing is that after they die, they leave behind their bodies in such a way that nothing has changed. You can actually collect dead insects because they're so intact—they don't really fall apart or completely decompose.
Do you collect insects?
A couple of years ago, I started collecting insects, mainly because I realised that they're so perfect even after they're dead. I can use them as reference for my artwork, and they're just really nice to collect. They hold on to their form, and leave something behind even after death. I think that's really fascinating.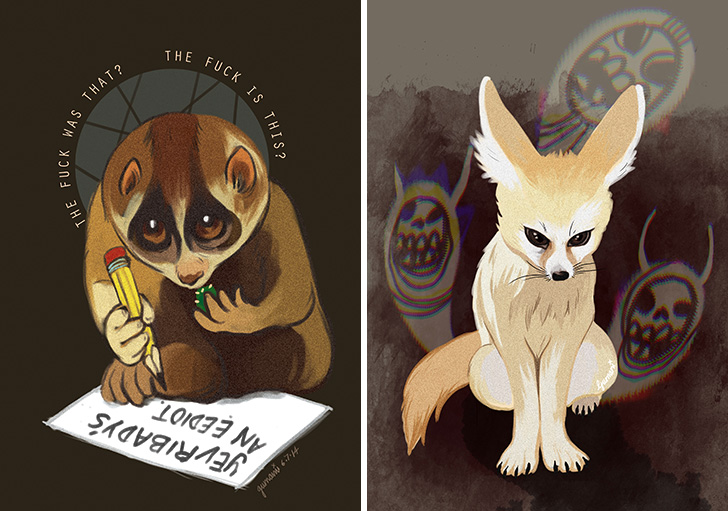 You've mentioned that you were always very artistically inclined as a child, but growing up, what is the one thing you wanted to be?
I always wanted to be a vet, actually, but blood and stuff makes me really squeamish, and since I dropped science really early in school, that didn't really help. As I grew older, in 9th and 10th grade, I realised that I wanted to be an artist. I didn't know that there was a thing called illustration back then. I just thought that you could be a fine artist, like a painter or sculptor, or a designer of some sort. I thought I could be a fashion designer or product designer. In my 11th and 12th, my brother suggested that I do graphic design. When I was looking at colleges—it's really weird. I don't know why all the brochures showed illustration work next to their graphic design curriculum.
Yeah, that is misleading.
Yeah, and when I joined college, it was so bad, because it was totally not what I wanted to do. It was all about layouts, and—
I wanted to ask you about that, because you said you'd always wanted to be an artist, and then you chose to study design.
Well, after I joined college, I realised that there's no such thing as illustration in India. I mean, there's no proper course, really. Either you do fine art or you do design. I did design. I'd already completed a year of college by then, so I said, fuck it, I'll just finish this.
This was at Raffles?
Yeah. They have this thing where if you complete two years, you can leave with a diploma, and if you complete three years, you can get a degree. When I was eligible for my diploma, I had half a mind to just quit and just get on with work, but then everyone convinced me to just finish it off. The good thing was that we had quite a few foreign lecturers, and there was a lecturer named Nick who saw the potential in my illustration work. He kind of redirected all my assignments and submissions towards illustration. So if someone else was designing a book and working with layouts, then he'd make me do the illustrations for it.
That's cool.
Yeah. He kind of pushed me to do what I was good at, and didn't force me into doing, like, graphic design in general. By the end of it, I had a good idea of what was required to be a good illustrator, but I was mostly self-taught.
"Growing up, I was kind of a loner, and I found a lot of comfort in the outdoors and with animals."
Did you have any jobs during or just after college?
Yeah, I actually started tattooing from first P.U. (11th grade) itself. That carried on until my second year of college. I took a break then for a year because we had major submissions due in college, and then went back to it after that.
How and why did you start making tattoos for other people?
When I got my first tattoo right after high school, which was some small, insignificant shit (laughs), I realised that you could mix art and tattooing, and I started interning with a tattoo artist. Normally, when you apprentice under an artist, you spend months and months learning the basics, but since I was already good at that, he gave me the machine after my first month with him, and taught me how to tattoo a client.
Was it a paid gig?
I got paid really well. I don't think that even today I make as much money as I did then (laughs). Basically, I got a monthly salary, and on top of that I got a commission for every client that I worked on. Tattooing also kept me out of trouble in college. Of course, I sometimes bunked college to work at the tattoo place, but it kept me from doing other stuff like drinking and doing stupid things with my college friends. I got a really good feel of how to work with clients, and coming up with designs based on someone else's preferences. The funny thing is that we had so much fun working and tattooing and we had such a tight group of friends at the studio, that we ended up spending all that money going on vacations together (laughs). None of that money was saved (laughs).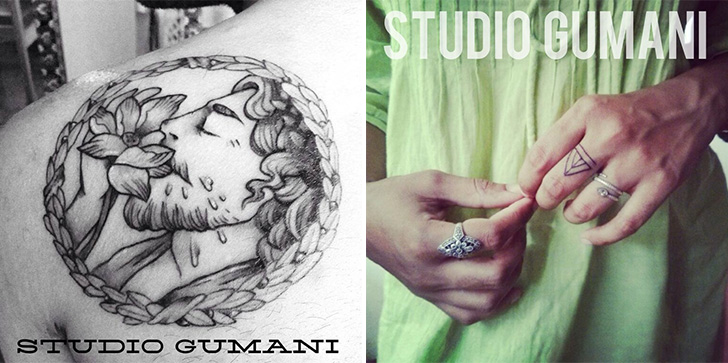 What is it about tattooing that made you want to do it for a living?
What I liked—and still like—about it, is that it's not like regular commercial work where you just talk to clients over email, or briefly meet them once or twice. Here, what clients require is for themselves; it's a very personal thing. And in talking to them about what they want, so many personal stories are shared, and you end up making strong connections with them. Also, you get to meet a lot of interesting people, who have had so many different experiences in life. I really like that you get to interact on such a personal, intimate level with people because of tattooing.
Can you remember the first tattoo you worked on that you were really happy with?
I was really scared when I worked on my first tattoo. This guy came in to the studio and he was really stoned (laughs). Normally, we didn't tattoo people who were drunk or stoned, but I don't know why my boss made an exception for this guy. He wanted a Shiva on his back, with many arms, holding many objects, and he wanted the tattoo to be really small. My boss looked at me and said, here is your first client, and then he left. I had to really struggle my way through to finishing it. I wasn't too happy with the way it turned out, but the client really loved it. I don't know if he loved it because he was stoned or if he actually loved it, but I was mostly just glad that it was over.
There are so many tattoos, man. Some people get tattoos of their mums or their children, some people get portraits of their dogs who have passed away. I've tattooed so many clients that I don't remember any stories in particular. I have worked on tattoos that are nature-related, and I think those are my favourite kind to work on.
"Tattooing kept me out of trouble in college."
Have you ever judged a client for a tattoo that they wanted, because you knew that they'd regret it later?
We had a lot of clients who came in wanting tattoos with their boyfriend's or girlfriend's names, and we'd have bets with each other that they'd come back within a month, wanting to cover them up (laughs). It was almost like an unwritten rule.
We had one client who was pretty weird—he got a woman's name tattooed on his arm, really big, and it was an ambigram, so you could read it both ways. He told me that it was his girlfriend's name, and that she had died. He told my coworker that it was his mum's name, and he told another coworker that it was his wife's name.
Wow.
Yeah, it was really weird, and on top of that he was trying to hit on all of us.
(Laughs)
We always come across these weirdos, man, you can't really avoid it. But yeah, there are some really strange clients.
When did you stop working at the tattoo studio and start your own practice?
In my final year of college, I started tattooing clients privately. Well, not really clients, but my friends and friends of friends. Around a year ago, I set up my own tattoo studio, and then shut the place in about six months. I got married and moved to Jayanagar, where my husband and I stay at his grandmother's house. It's a lovely, old house, and was probably built in the '60s. We live on the top floor, and we're now converting the recently vacated ground floor into a studio space and a store. For the time being, I've stopped taking on tattoo projects.
Why is that?
The lease on my tattoo studio was going to end in a month. The rent was ridiculous, and I had some space in my house to work from, so I decided to shut the place down. I was also a little put off with the tattooing scene in India at the time, because people aren't very open to original tattoo designs or even suggestions—you just end up taking on more and more of the same kind of work just so you can pay the rent. So after I shut my studio, I decided to wait and see what the tattooing scene would be like in the next six months, to see if it was progressing. But it hasn't. The only people who have come to me of late are the ones who want the boyfriend-girlfriend names (laughs). It's very discouraging.
Also, since there are very few good tattoo artists in India, and so few open-minded clients, most tattoo studios are very closed off to one another. It's very hard to find someone to collaborate or work with. I've decided that even if it takes a year or two for tattooing to gain acceptance in Indian society as an art form, rather than a trend, I don't mind coming back to it, but it's not worth it right now.
Besides tattooing, you also work on design and illustration projects under the monicker of Studio Gumani. Why did you take on the name 'Gumani'?
You know how in different languages there are certain words that only families use? I don't know if that makes sense. So 'gumani' means 'ghost' in Kannada, but then different families say the word differently. For example, some families refer to ghosts as 'guma', but in my family, we say 'gumani'. I thought it was interesting and very personal, in a way. Plus it sounds really nice. Also, since I've started using that name, people have also started calling me 'Gumani', as an affectionate nickname. It slowly became my 'artistic name', and then turned into the name of my studio (smiles).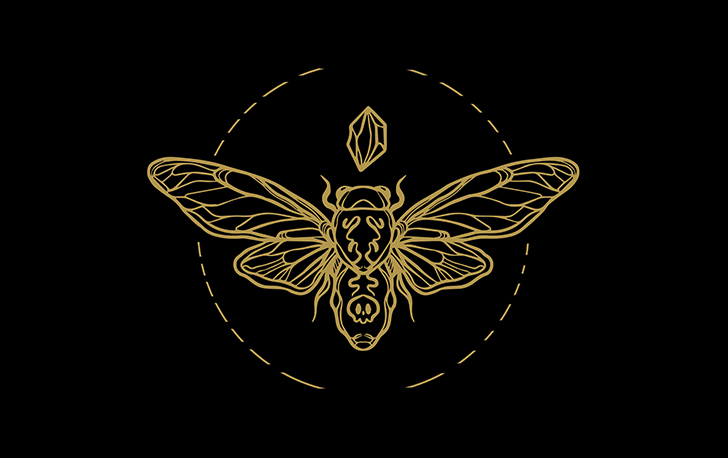 What kind of work do you usually take on?
I used to do branding earlier, but I don't enjoy it any more. Now whatever branding projects I take on are for really close friends. Like, at present, a friend of mine is starting a new gastropub in Bangalore, and I'm doing their branding and all their design. But that's just a one-off project. Otherwise, I don't really like to touch graphic design with a pole if I can help it (laughs).
(Laughs)
I do a lot of commercial illustration work, for book covers and magazines, and wherever else it's required. I work on murals as well—last year I did a lot of murals for clients around Bangalore, and a huge mural for Paper Boat in Mysore. I do book-binding as well, and I've also started doing some sculpture work. Yeah, I really enjoy doing all sorts of stuff, man. Anything where my illustrations can be adapted to another medium or object; I'm keen to do that sort of work.
You've worked with a fairly wide range of clients: book publishers, magazines, restaurants, musicians. Is there a filtering process that you follow when it comes to clients? Are there certain kinds of clients you like to work with the most?
A couple of years ago, I used to take on pretty much any and every illustration project that came my way, even if the illustrations were required in a style that was very different from mine. I quickly realised that the important thing for an illustrator is to find a style and just promote that, so that when a client comes across your website or portfolio, they can pick you specifically for the kind of work that you do, and not just hire you as a tool to do whatever work they want. Over the past year or so, I've only been working with clients who are happy with my style of work. It's really difficult, because you have to turn down so many people, and sometimes you have to make certain compromises, but it's important.
"I don't really like to touch graphic design with a pole if I can help it."
You've been working on a lot of hand-cut, layered, 3-D illustrations in the past few months. What's interesting is these are works that are telling complete stories on their own, as opposed to just being illustrations that accompany a story. You've provided some context for each of them as well.
I don't know how I started doing those, actually. I think this kind of thing has always been in my head. Recently, when I went to my parents' house, I saw a similar illustrated cutout that I had made as a kid, but that one was made using Thermocol. It was a really long forest scene. It was really bad—I'd made it using sketch pens on Thermocol and then cut it out, and it's also faded over time (laughs). But I like it. As an illustrator, trying to tell a story via a two-dimensional illustration is hard enough as it is. For me, personally, I struggle a lot with storytelling through a singular image. It's easier if you're doing something sequential like a graphic novel or a comic. The first major 3-D illustration I did was the one with the cave and the kids—that one took a year to execute. Cutting the layers didn't take too much time, but assembling the scene took a lot of time, because I still haven't figured out a perfect frame or a way to assemble and mount the cutouts and keep them together.
Is this something you see yourself doing more of in the near future?
Yeah, I've received some great response for those works, and they are a very interesting way of showcasing illustrations. I want to do a lot more of them, and I want to do really large-scale ones, but man, these things are very time-consuming. It takes a very long time to figure it out and make it happen.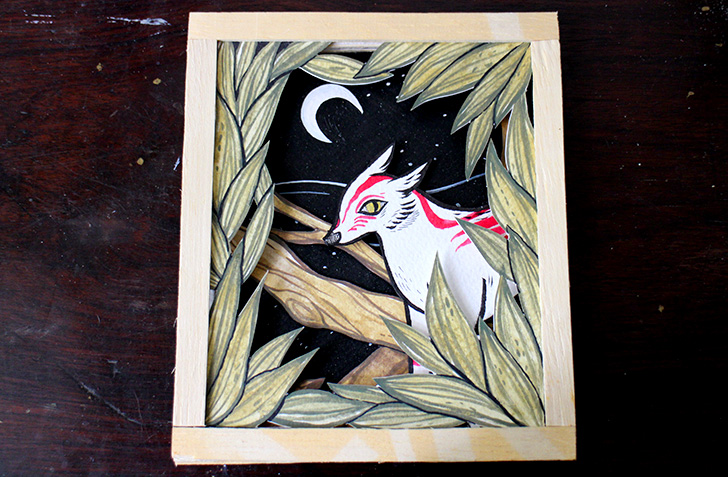 Do you come up with the story first and build the scene around it? How does it work?
It's really complicated. I was talking to another illustrator friend of mine about it recently, because this is something I really struggle with. What I do when I draw is, I just sit with my sketchbook and just sort of pour whatever is in my head on to the paper. I know when something is complete, but there's no real thought behind it. The story just develops as I draw. But now, I think of a before and after the scene. What happened before the scene, and what is going to happen afterwards. With client projects, I really have to think about every step I take, but with personal work, I feel like when the idea comes, you should just do it.
An intuitive approach.
Yeah, because if you think about it too much, it can get ruined. Your ideas can get really screwed up, and then you start looking to see if other people have done the same thing, and then you don't really end up putting out anything. Thinking about the past and future of the scene really helps, because that's where the story builds up.
Like I mentioned earlier, I want to make really large-scale works in the future. Like, human-scale ones that you can walk into. But it's complicated to figure out how to keep them standing for long periods of time. Something like that would also be very expensive to make.
You mentioned that you're going to open a store soon. Could you tell me more about it?
It will be a store for art supplies and there will also be classes conducted there. Not for kids, but for adults, maybe illustration or book-binding classes. I'm also looking at getting artists who specialise in a particular medium to do workshops at the store. My main aim with the store is to get the illustration and art community in Bangalore together, and to grow the community. Illustration isn't very big in the country right now, and the life of an illustrator in India is very lonely. It seems like people think that the only way to communicate visually is through graphic design or photography.
Why do you think that is?
I don't know, man. A lot of big companies in India seem to be against using illustration for their communication. The sad thing is that those are the guys who can actually afford to hire good illustrators, but they don't. It's weird. Every illustrator I know is sort of struggling with this, so I thought it would be good to have a community where you can discuss all these things in a very straightforward way.
What have you decided to call the store?
It's going to be called Pigmenta, and it will be located in Jayanagar. I'm also going to stock imported supplies and materials that you don't find easily here. Since I'm in touch with the artist community, I have a fairly good idea about what supplies people are looking for.
I'm sure it's going to be awesome. When does Pigmenta open for business?
Hopefully by mid- or end-August.
Speaking of illustration being a lonely profession, do you work on your own? Do you have any employees or partners at Studio Gumani?
I work on my own for the most part, but when it comes to murals, I work with this other illustrator called Sonali Zohra (Danger Cat). We do all our murals together. We work well together and our styles are very complementary. For any major graphic design projects, I work with another friend named Bhushan. I also live paint with a few other friends. We don't all work out of the same office or anything, but I love collaborating with other artists. I think it's a really great thing to do.
You've been a freelancer for a while now, and that comes with a certain amount of freedom. On some days you don't feel like working, and you can adjust your schedule as required. You have the freedom to take off for short trips now and then. Once the store opens, it will take over your life to an extent. Does that make you nervous?
In September I was supposed to go to Indonesia, but now it's not happening because of the store (laughs). It is a commitment you make. I'm planning to continue my illustration work as well, and I'm worried that when the store starts, I won't be able to hire a really reliable manager. They will need to be trained into it, since this is not exactly a regular store which just sells stuff. I'm hoping I find someone great to run the store. It's a worry, but right now I'm just taking it as it comes.
The Setup / Pia Meenakshi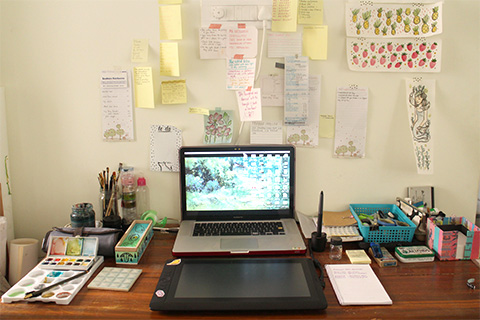 Pia's workspace.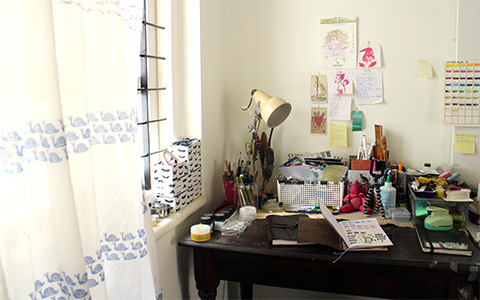 Pia enjoys working in multiple mediums.
Hardware
Apple MacBook Pro 15" (going to upgrade to an iMac 21" soon) • Canon EOS M (for photo and videos) • HP Officejet 7500A Wide Format (A3 printer, A4 scanner) • Wacom Cintiq 13HD tablet • Apple iPhone 4S and Apple iPad mini for social media management
Software
Adobe Creative Suite 6 (Photoshop, Illustrator, Flash, Premier, InDesign) • Paint Tool SAI • Clip Studio • Corel Painter X3 • Sketchbook Pro • Sculptris • Google Sketchup
Stationery
Paper: Moleskine sketchbooks, lots of locally found paper, Canson and Fabriano watercolour Paper, Arches watercolour paper, Brustro watercolour paper (for the paper cut art) • Pens: Sakura Pigma Micron, Brause & Co. Rustica Iserlohn nibs & Perry & Co. No. 88 nib for inking, Pentel brush pens, Kuretake Brush pens, Copic Ciao Brush Markers, Sakura Gold pens, Uniball Posca paint markers, ShinHan Touch Brush markers • Paint: Winsor & Newton water colours, Daler Rowney FW Acrylic Inks, Cretacolor Calligraphy Ink for typography, Camlin and Pebeo acrylic paint, Fevicryl Gold pigment and binder, Marie's Gouache, Camlin oil paints, Dr. Ph. Martin's Hyrdus water colours, Ecoline liquid water colours • Brushes: cheap sign painter's brushes from Mysore • Other: X-acto knives, miscellaneous Japanese brand tiny knives for paper cuts, vintage Japanese Lion brand paper cutting guillotine, Asian Paints Apex for murals, Xyron 5" sticker maker