"Your career is not a ladder. It is a jungle gym," says Kalyani Ganapathy, a gifted illustrator who lives and works in Tamil Nadu's Nilgiris District. "There may be times when you have to take a step down to move three steps up."
Kalyani studied graphic design and advertising in Bangalore, and worked at a number of agencies before she decided to switch from design to illustration, and from full-time work to freelancing. In her own words, she is someone who just "woke up one morning, got out of my graphic designer avatar, walked into an art shop, bought a bag full of material, and started drawing." She describes herself as a visual storyteller, and currently illustrates and designs books for adults and children. Her website showcases a stunning range of projects that she has worked on, including work done for The Gulabi Gang Art Project and Poetry in Public India.
Read on for excerpts from a conversation with her about growing up in Kotagiri, her creative process, art competitions in Indian schools, dealing with transitions, and getting her writing published —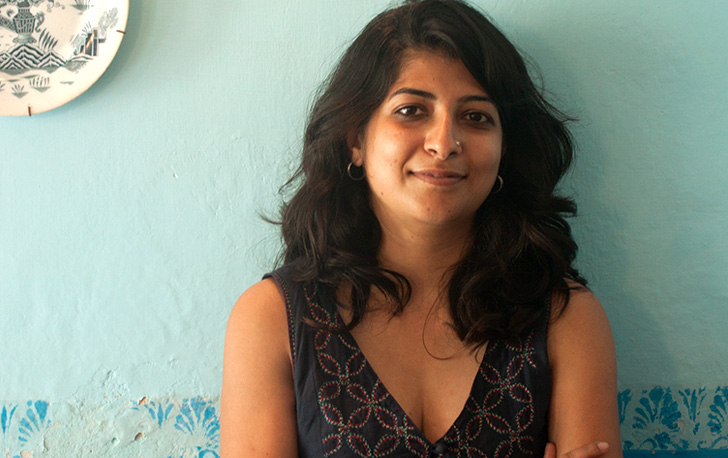 Tell me about your early years. Where did you grow up?
I was born in New Delhi. When I was three months old, we moved to Kotagiri, a small, tea-growing town in the Western Ghats left behind by the British Raj. Apart from a few essential stores in the town, most of the ghats were either covered by forests or by acres and acres of tea plantations.
Kotagiri sounds like a lovely place. What are your fondest memories of growing up there?
My memories of childhood sound very much like they came out of an Enid Blyton book. The home we built was at the end of a very muddy road. I didn't have any siblings and I played with our two dogs and my mother, and at night my parents would read to me. The best part about growing up in a place like Kotagiri was that there was no difference between the world in picture books and the world outside my window. I used to wake up to toadstools and hares in the garden. The hangover from the Raj meant that we were often invited to tea and supper. Little Kalyani probably chose to be a storyteller then and forgot all about it. I drew a lot and was fascinated by all the craft work that my mother and grandmother did around the house.
What sort of things did Little Kalyani like drawing?
I have very few memories of what I used to draw. I remember being obsessed with perfection and tearing up a lot of paper because it didn't look like the thing I wanted to draw. I drew Fred Flintstone quite often until I perfected him. And I remember drawing a lot of palm trees over and over again till I got them absolutely right. Also roses, over and over again until they looked like real roses.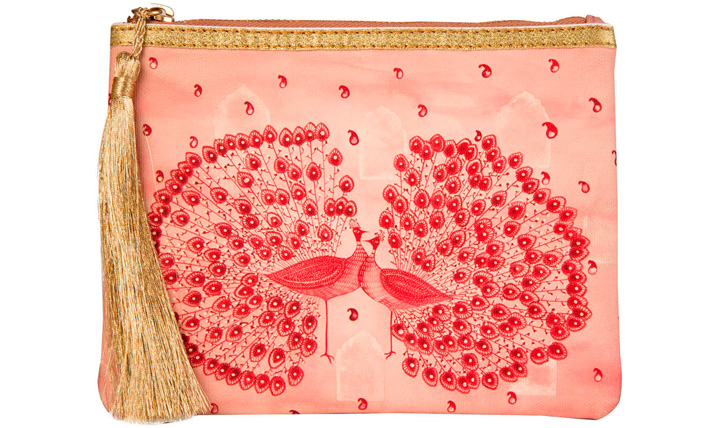 Where did you study?
I went to boarding school when I was six. I first studied at Cliff School in Ooty. I never understood what boarding school meant until I actually went there. We had the best time there, though. The school was just small enough to know everyone on a friendly basis, so we were all one big family. I remember drawing at an art competition there and everyone else was so good that I decided it was not for me. When I was eight, I moved to a bigger school: The Lawrence School, Lovedale.
What was it like there?
I expected life at Lovedale to be very much like Malory Towers. Sadly, it was a lot tougher than I imagined. I was a timid child and seldom spoke. A lot of my friends now find it hard to believe that I was not free in expression. Given my dismal performance at the art competition in my previous school, I took up Indian classical dance instead. I wrote for the school magazine in my senior years. My focus, however, lay on academics and sport. I played hockey and ran cross-country for my school. The latter was a sport I continued well into my 20s before I had multiple injuries that made running difficult.
What did you love most about long-distance running?
In Christopher McDougall's book Born to Run, he says that we are all running away from something or running towards something, and I think it's a combination of both. I run away to have my space, and I run towards new ideas by being able to think undisturbed. I love being able to think fresh everyday. In school I ran because I could and I wanted to be part of a team. I was really good at it. If you're someone who likes your space, being around people 24x7 is claustrophobic. I was (and still am) an introvert and I enjoy being alone for some time in the day, whether it is to to read or just think. In school, thanks to my need to have some alone time, I was called anti-social, and running allowed me to think freely, ground myself, and start another day. Even now, despite my injuries, I do run sporadically and hope to run a half-marathon (at least) some day.
Did you have any art classes in school?
In class 11, I took up Fine Art as an optional subject. I don't think I enjoyed it much. Most of the time, we drew buildings and people. I remember sitting outside on the school lawns, extremely frustrated that there was no one to guide me. When I did get figure drawing right I was elated, only to be crushed by a rude remark from my art teacher a minute later. Sometimes, I wonder how I took up design after this ordeal.
"Sometimes, I wonder how I took up design after this ordeal."
I did very well in class 12. I knew I could not do degree after degree. Just before application time, I broke down and told my parents that I wanted to study art or design. They were extremely supportive, but we did face a dilemma. I had missed all the necessary entrance exams. During this time, I found a poster of Wigan and Leigh College in Bangalore by chance, and I followed my heart and applied. I got through. It was a tiny design school with very few students and we lovingly called our campus the 'cow shed'. We had assignments in advertising and graphic design in our first year. In our second year, we had illustration modules, which I found myself enjoying. My illustration teacher was critical in his feedback and the rebel in me detested that. Many years later, when I started illustrating full time, I did follow all his advice. It contributes immensely to the quality of my work today.
What made you choose to pursue a design course after your less-than-pleasant experiences with art classes in school?
I had decided very early in class 8 that I was going to study design; the only question was what [kind of design]? I thought of ceramics, as I had already done a bit of pottery, and even considered textile design. In class 10, a career counselor remarked after a test that I had wonderful spatial abilities (that I didn't know about). He threw a whole lot of options at me, which included naval architecture, marine architecture, and so on. However, I was not keen on pursuing science. I was more suited to the arts, so design became an option. From my parents' point of view, if this didn't work out I could always take up academics at any time. I had also heard and read enough about design to know that nothing I did in school other than basic math and geometry would come close to what I would study at design school, so all in all I took a chance knowing that I had done well in class 12, and could fall back on a B.A. in history.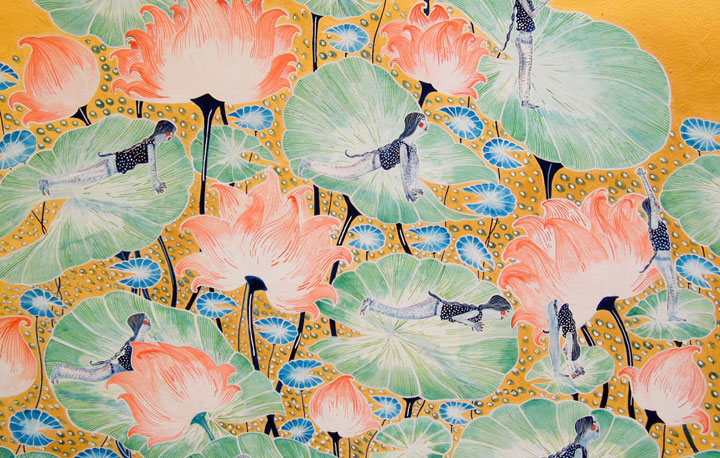 Do you think a lot of students give up on their artistic pursuits in school because they feel that others are better and they are not "good enough"? In that sense, do you feel art competitions in school (can) stifle a child's creativity?
That is one of the reasons. There are several reasons why students give up on their artistic pursuits, the biggest being that most adults think imagination is stupid, that it's only for kids. We choose to grow out of our creative selves into adulthood and logic. In schools in India, art is looked at very objectively. There is good and bad, right and wrong. I have been a victim of that thought process as well. It's only now that I see art subjectively.
Art competitions in Indian schools do stifle creativity. If there was a system without ranking, where schools published work in journals, worked on theme-based art, and encouraged kids to just express themselves on paper, I think a lot more children would be open to creative education as adults, and more importantly, to accept creative peers. I do see that as a big problem in Indian society today.
"In schools in India, art is looked at very objectively. There is good and bad, right and wrong."
What was it like studying at the 'cow shed'? Are there any memories of studying at Wigan and Leigh that stand out for you (besides the feedback from your illustration teacher)?
For anyone who's grown up in a small town, going to a big city is a culture shock. Let's not pretend that it's not. And college was one such shock for me. To see people just a year older than me smoking on campus, spending their weekends at bars, and showing up with hangovers took me more than a little time to get used to. More than that, it took me a long time to get used to smaller things — crossing a road, getting into a crowded bus, and even making friends. In my second year, I finally settled down and started making headway towards getting good grades. The course moved at a rapid pace and we were a very cohesive batch. I wish we could have spent a year longer in the college. It was a very generic course and opened up a lot of options for us. We cribbed about a lot of things, starting with the computers. Those were the days of good old Corel Draw. When we'd work on something and save it, it would be stuck at 69% forever. We'd actually go to a store down the road, have a coffee or a Pepsi, sit around, stroll back, and then it may have finished saving. We had tons of assignments. Tons, so there was a lot of self-learning involved. I don't remember ever sleeping before three a.m in those three years.
What was your first design job like?
My first job was at a place called Kiri Design. I was the only apprentice there. It was an informal setup and I had flexible hours. We did a lot of corporate identity, brochures, websites, pretty much everything to do with communication. I had quite a free hand in conceptualising and executing a lot of projects. Apart from that, my boss had a lot of experience and she would give me simple exercises to improve my techniques, etc. All our work involved the computer. I can't deny that I learnt a lot, but the job started consuming me. It was getting repetitive and I just couldn't find the will to wake up and go to work everyday.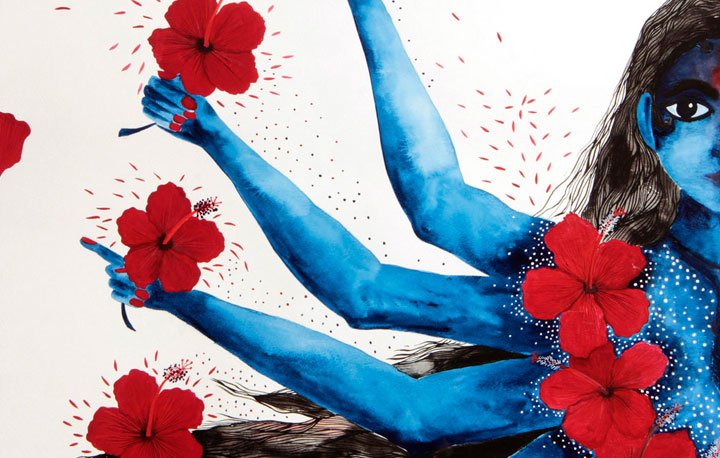 Did you make the jump to freelancing after your stint at Kiri Design?
Not quite. My first job after Kiri was a disaster, where I was expected to pretty up Word files and PowerPoint presentations. I quit rather quickly and worked as a print designer after that. After four years as a graphic designer, I found that it was a difficult time for me personally. My world was really crumbling — I wasn't in good health, I wasn't happy at work, and found it difficult to rake up any kind of enthusiasm. This was clearly visible to my clients as well. And this time, I just couldn't muster up the strength to say that I'll do one more identity or brochure. I was happy to let my clients go and find someone better. I found myself with some free time as a result and I decided to paint, which I hadn't done in years. I went out and bought paint, paper, and fabric, and started painting. I was surprised at the results because I really thought that that part of me didn't exist.
Could you talk about the transition from design to illustration and from full-time work to freelancing? Was it difficult to make the switch?
The transition wasn't easy. At first, I had no clue how this would work. I wondered if I was crazy to even think of a career switch. It took me four years to properly make the switch to illustration. Initially, I had people bargaining with me when they bought my art — and these were people who were collectors of art. The books I made did not see the light of day. Editors made me revise work over and over again until I quit. Rent was difficult. In 2012, I decided that I would take up any work that came my way and paint at night. I would stay up the whole night sometimes.
On a whim, a friend suggested that I set up a stall at a local flea market called Kitsch Mandi. I signed up to sell prints of my work there. Archival printing is not cheap and I wasn't willing to compromise on quality. My printer was very kind and said he would give me a discount. He also allowed me to make the payment in parts. By the time the event took place, I was a wreck. A few schoolmates helped me at the stall. All day, we didn't count the money that came in and we just kept putting it in a box. By the end of the evening, I had enough to cover two months' rent. From then on, I never looked back. Through a friend who had been advising me to do book covers, I contacted a few more publishers and gradually built up a steady work flow.
Do you still do client work or do you work solely on personal projects? What kind of projects do you like to take on?
I do a mix of both. I do client work on an almost everyday basis now and personal projects when I have the time. I take on book jacket design and children's books. I still do work for my oldest client, Current Conservation. That's work I really enjoy, and it challenges me on many levels. I create artwork for sale, when I have the time. I do lots of small, self-initiated projects like Mission Postcard, which is a small project for this year. Books, however, have a special place when it comes to the work I choose.
You describe yourself as a visual storyteller. Is there a ritual or process that you follow when you work on your illustrations? How does the process differ for client work and personal projects?
There is a big difference between how I approach client work and personal work. Client work begins with reading the synopsis of the book I'm working on, and creating rough thumbnails that I send to the art director. Then I begin drawing the selected thumbnail on a canvas that is double the size of what is required, so that the details are not lost when printed. After I fill in colour and add details, I scan it as is and send it to the art director, who may or may not have feedback. These days, I have learnt a lot of Photoshop from YouTube, which makes editing easier. I often tell my clients beforehand that my artwork is handmade, and in order to get the desired effect I work on a single sheet of paper. The only digital process is scanning. Once the final set of changes are worked out, I begin working on the layout. To be honest, on some days I feel like I am waging a battle against digital art.
"To be honest, on some days I feel like I am waging a battle against digital art."
When it comes to personal work, I latch on to fleeting thoughts. I usually jot these down on any piece of paper I can find, and if something sticks, I type it as-is on 'stickies' and leave it on my desktop. If it calls out to me, I start just daydreaming and making notes about it until it settles, and then I start doodling — usually two to three thumbnails. I usually know what colours, etc. I want to use beforehand, so I don't do swatches or anything. I usually build the story while I draw. Once all the elements are in place. I just allow the story to flow, and when I finish the art piece, I write.
Do you like to write?
I do. I write as a part of my personal work. Mostly stories that are full of whimsy. I write quite often, and this year I have been attempting to get some of my writing published as well. Let's see how that goes.
Do you like to read?
Yes, a lot. I don't think I can live in a world without books.
Do you like certain kinds of books more than others?
I've read a lot more oriental fiction than anything else. My first novel was Norwegian Wood by Haruki Murakami. I've also discovered I have a strange appetite for dystopian fiction, and unlike many women I know, I do enjoy books that are a little dark and twisted (no gore, though). I buy books that teach me something new, that create emotion, and are fast-moving, and I'm not opposed to discovering new authors. I read mostly fiction, though I do enjoy nonfiction too. I'm a little choosy when it comes to graphic novels. Nothing has come close to Persepolis for me so far.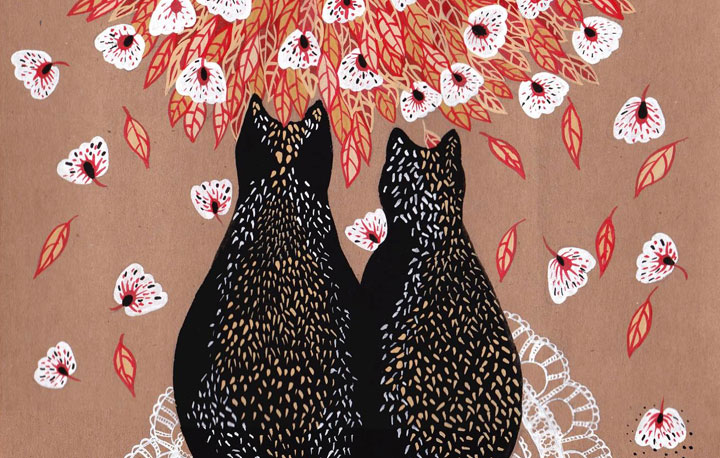 What advice would you give illustrators who want to embark on a freelance career? What were the things you wish you knew when you made the switch?
Initially, illustration pays a third of what a design job pays, so in my case I came down to earning what I was in the second year of my career and putting in twice the amount of work. Don't get disheartened. Just take the leap and do the needful. Once you stick it out you can change your terms and conditions of working. Yes, you will still have clients who will want to pay you a pittance, but at that point you get to decide if you still want to work with them.
A large part of illustration has got to do with writing, so I think the best place to start, apart from drawing, is really understanding what kind of publishing houses and writers you want to collaborate with.
"Illustration is a lonely career, so surround yourself with people when you can."
Work does not land in your lap overnight, so it's important to start from scratch every time. Prepare a portfolio. It helps to have a website — not a blog, a real website. And like any agency or design job, you've got to be prepared to redo an illustration. P.R. is so important — you've got to do your own talking. Facebook, Instagram, Twitter. You've got to get the world to see your work. And it is important to network. When I'm in another city, I meet art directors that I work with over a cup of coffee. Face-to-face interaction is vital. (Thank you, Ajanta, for this advice.)
Don't get caught up with believing you're not good enough. It's easy to get sucked into looking at another illustrator's work and thinking, 'Damn! My work just isn't there.' The healthy option is to look up to illustrators who have been around for the last 20 years and won awards, and see what they're doing differently.
If you are not a design graduate, learn a bit of graphic design. It's a whirlwind of happiness when you know what typeface goes with your artwork and where you want it placed (grins).
Illustration is a lonely career, so surround yourself with people when you can. And yeah, don't bother to retort when people ask you: 'What were you smoking when you drew that?' Just ignore the ignorant.
When did you move back to the Nilgiris from Bangalore? What prompted the move?
I lived in Bangalore for 13 years. That's a long time. I was freelancing for a long time and working from home. I had converted a room of my apartment into a studio. At some point, I realised that I was spending a lot of time just running to and from meetings, amongst other things. I wasn't spending enough time doing the things I wanted and that fulfilled me on any level. And quite honestly, Bangalore wasn't very inspiring. I missed family, I missed friends who moved away, and I got rather sick of living and working alone. When that happens, I think it gets you thinking about what you really want out of life. I definitely knew I wanted a change of scene. I didn't know where I wanted to move. I just needed to move and take a sabbatical of sorts.
I hadn't lived at home since the age of six and I thought, why not? I know the decision shocked a lot of people, but hey, these days, with the Internet, life goes on (in terms of work). That's how I moved here. Strangely enough, I've done a lot of work during this sabbatical and it's been wonderful. And I've been able to spend time thinking about what I want to do next.
"I've stopped allowing the professional to creep into the personal, and I've felt a lot better about life in general since I've done that."
Is it important for you to know that you're part of a larger creative community?
I have friends who draw or design. I've always known that about them, and I've always been around creative people, in a way. I've met people through blogs as well. Some time ago, the concept of a creative community mattered a lot to me. But I've seen many sides of it, from the wonderful to things like back-biting, and honestly, now I don't have the energy to make the effort to keep up or win votes. I've stopped allowing the professional to creep into the personal, and I've felt a lot better about life in general since I've done that. Having said that, I've consciously made an effort to communicate with other illustrators through Behance and Cargo. That's a community that inspires me, and helps me to know that I am a tiny speck in a community of illustrators worldwide. It reminds me that there is so much more to discover, so many new perspectives and unbiased love for doing what you do every day. It's professional, which I like.
If you had to live and work out of any other place in India, which place would you choose?
I'm a mountain person, so I definitely gravitate in that direction. I can't get enough of the fresh pine-scented air and winding paths. Other than that, I find Delhi very inspiring. I like that there is always something happening — museums, performances — and I love the history of the city and the book stores. So that may be another option.
The Setup / Kalyani Ganapathy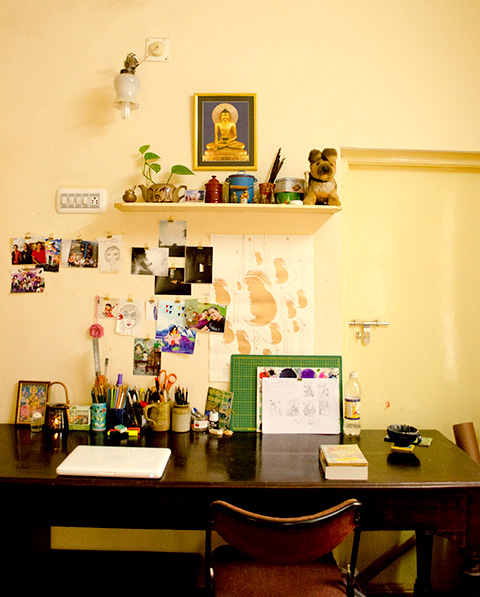 Kalyani's workspace.
Computer + Other Hardware
Apple MacBook (time to change) • HP Scanjet 200 scanner • HP inkjet printer (to check point sizes of text) • Nikon 500D (I use pictures for reference and inspiration), especially when I travel • I have astigmatism, so quite often I use my cellphone camera to take pictures of work in progress, and check if the lines are straight (grids help).
Software
Adobe Photoshop, Illustrator, and InDesign • Preview • Stickies to make notes
Stationery
Cutting mat • Cutter • Steel ruler • Clutch pencils • Faber Castell pencils • Sakura Micron pigment liners • Encre de Chine Pébéo • Synthetic brushes • Winsor and Newton half-pan water colours • Fragonard water colours • Gouache paints • Poster colours • Acrylic colours • Mungyo dry pastels • Canson Montval 300gsm water colour paper • Fevi Stick • Paper clips • Lino and woodcut tools • Roller • Handmade note books • A sturdy palette • Handmade teacup for water to dip my brushes in • A stash of paper I may or may not use
I use a lot more stationery, I just can't think of what else to mention. And there's a lot more I aspire to own.