Born and raised in Pune, Chaitanya Modak currently lives and works out of a small studio in Bandra, Mumbai (though he would rather be in Goa). He runs a one-man graphic design and illustration studio called Inhouse Design, and is perhaps best known for Won-Tolla, an indie comics label he founded, under which he has published popular graphic novels such as The Oracle of Tripe and The Manual of Love. Read on for excerpts from a conversation with him about creating Bhopu, one of the first Marathi comic strips in Pune, studying at the National Institute of Design, client work versus personal projects, and the comics scene in India —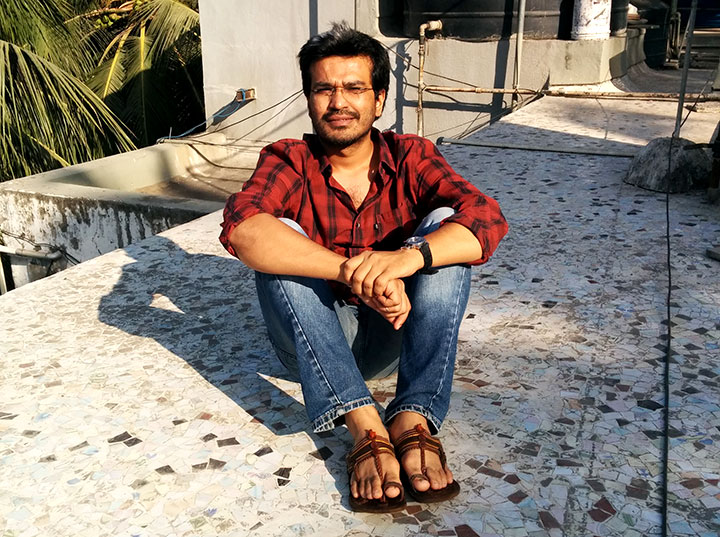 What did you love most about growing up in Pune?
I was born in Sadashiv Peth, which is in the conservative part of Pune. My family moved out from our ancestral home there when I was very young and moved to Salisbury Park, which is a more cosmopolitan area. It was nice, because suddenly I had all sorts of neighbours: Christians, Muslims, Gujaratis, south Indians, etc. I got to participate in all sorts of festivals as a result, which was fun.
I loved the pace of life in Pune. Growing up, we could ride a bicycle to school and all over town — and it was a town, it was never a city. I still think it's more of a town than a city, to be honest. There were no malls or anything of the sort at the time. You could just park your bicycle and sit and talk with your friends anywhere. You didn't need much.
That sounds lovely.
Yes, it was very enjoyable. I still miss that pace of life sometimes.
Did you like going to school?
School was a period of time in my life that I'd like to forget (laughs).
(Laughs) Why is that?
You know, recently I've been speaking to my old school friends on WhatsApp, so they might not like what I have to say about school (smiles). But I didn't like the whole idea of school, to be very frank. I think I only pulled through it because I was sympathetic towards my parents. They didn't have any option but to send me to school; they couldn't just let me sit around doing what I wanted to do. If I hadn't gone to school, I would have just ended up troubling them, and school was a place where I could invest my energy.
Were you a good student?
I was an average student. I think I came first in class when I was in first standard, and I remember thinking that since I had proved I could come first, I could afford to take it easy from then onwards. I came first, and then I relaxed (laughs). I tried doing that again a few years later, just to see if I could still do it, and then went back to taking it easy.
Did you like the art classes in school?
In school, we used to have the usual Elementary and Intermediate art exams. I think those exams would systematically make sure that students would never draw again. Art, as such, had no real value there, and the whole process just felt wrong. It left me a little jaded; it became just another class that I had to take.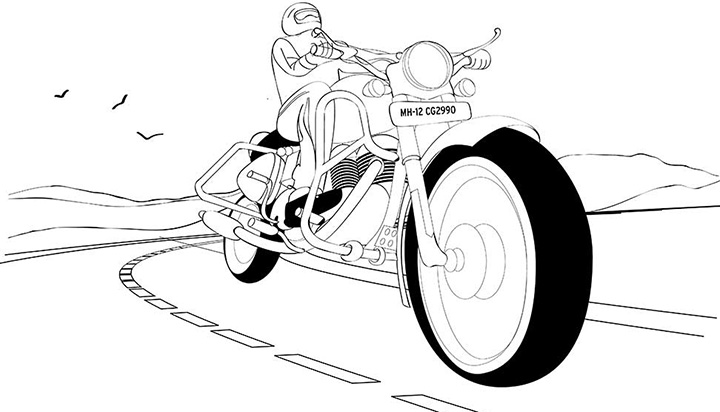 When did you realise that you wanted to pursue a creative career?
I got an inkling of what I wanted to do only in college. It was a little late in the day, I think, because by then I had already applied for a commerce course. But I'm glad I did. I got to do a lot of things as a result, extracurricular activities like theatre, etc., because the syllabus wasn't too taxing and I wasn't constantly swamped with work.
I went to B.M.C.C. in Pune. In my first year of B.Com., there was an art exhibition in college and a personality contest going on at the same time. I won the contest (laughs). One of the judges for the personality contest was a writer who worked for the Times of India. I showed him some of my art pieces, which were being displayed as part of the ongoing exhibition, and he found my work interesting. He said that there might be some work for me at the newspaper, and invited me to the Times office to meet his colleagues.
Did he introduce you to other illustrators who worked for the Times?
Yes, he did, but I didn't know the word 'illustrator' at the time. I think illustrators were just referred to as people who worked on sketches, when required. I went and met them, and they gave me an assignment. That was my first professional illustration, and after that, I started working with the Times on a freelance basis. After a while, I even approached other newspapers like the Indian Express and Mid-Day in Pune, and started working for them. At the end of each month, I used to end up earning around ₹2000-3000, which was a big deal for me at the time. That's when I started to realise that yes, this was something I could do for a living.
"At a newspaper, I liked knowing that no matter what, all my work would be done by the end of the day, that I could start afresh the next day."
Were your parents supportive of your creative endeavours?
My father used to run a general store at the time. He is an engineer by training, but couldn't pursue a career in engineering due to health reasons. My mother is a doctor. I think all of this happened so quickly that they didn't really get a chance to think about it and react accordingly. I think it really helped that my name appeared in the newspaper along with my illustrations. They were super-impressed by that (laughs).
Yeah, I think Indian parents are fine with most things you do once your name is in the paper.
(Laughs) That's true. If your name is in the paper, then you must be on track. But, yeah, my parents were always ambivalent about what I chose to do. They didn't really try to push me too hard in any one direction.
Tell me about some of the other jobs you had in your early days as an illustrator.
After college, I interned for about six months with Sun Publications, a small publishing house that printed books about agriculture in Marathi. There I learned about making layouts and about the book production process in general. I also learned how to use design software such as Photoshop and Illustrator. Nana Joshi, who was the editor there, was a fantastic and well-known illustrator himself. Soon after that, the Indian Express started a full-fledged design desk in Pune, and they hired me full-time. I was responsible for making the layouts for the front page and the features pages.
Did you enjoy working full-time at a newspaper?
Oh, yes. It was fun. I worked there for about two years.
Did you mind the hectic schedules and tight deadlines?
I actually liked that aspect of it. I liked knowing that no matter what, all my work would be done by the end of the day, that I could start afresh the next day. While working for the Express, I also realised the importance and value of quick turnarounds, and imbibed that into my workflow. There was also a lot of camaraderie between my team members, which was nice.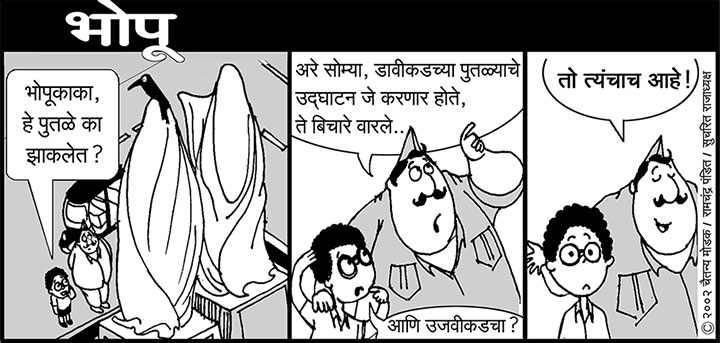 When did you start working on your own comics?
While at the Express, I met Ram Pandit, who used to handle the advertorial content for the paper. We were supposed to work together to create a cartoon for an education-related advertorial, but ended up creating a whole other comic strip called Bhopu, about a rickshaw-wallah's adventures in Pune, which eventually got published in Loksatta.
Did you have to pitch the idea for the strip to Loksatta, or did they express an interest in it?
We kept running after the editors to give us a meeting. Initially, they were very resistant to the idea of a comic strip in Marathi. They didn't think it would work. At the time, there was only one other comic strip in Marathi called Chintoo, running in a competing publication, Sakaal. Chintoo was a strip that was targeted specifically towards children, and our strip was more for grown-ups. After a lot of to and fro about how exactly the strip should be, Loksatta picked it up. I think it was largely due to our persistence (laughs).
How did you manage to work on Bhopu while also working full-time at the Express?
Ram and I used to meet every morning at around 7 a.m. to brainstorm ideas for the day's strip. This used to go on for about two hours, after which he used to head to work. My shift started in the afternoon, so I used to work on the artwork for the strips before I left for work. It was definitely challenging, though.
Was it hard to think of ideas for new strips daily?
(Smiles) The thing with that is, if you don't think too much about it, the ideas come easily. The moment you start thinking about how and where the ideas are going to come from, that's when you're in trouble. We did the strip for about three-and-a-half months.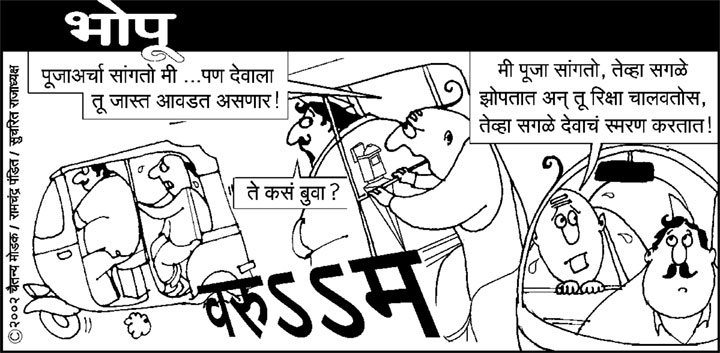 What made you decide to pursue a filmmaking course at the National Institute of Design? Were you always interested in film?
I'd been to the N.I.D. campus once when I was in college, to visit a friend who was studying there. I loved the space, and wanted to get in. I didn't care what course I did, I just wanted in (laughs). I had applied for their undergrad program, but didn't get through. Later, I applied for a post-grad course, and got accepted for film. It was the only course I could apply for that didn't require me to have any specific qualifications. The focus of the course was film scripting and direction. Almost every week, we were shooting a film, either for a group project or an individual assignment. It was a great experience.
Did you consider pursuing a career in film after your stint at N.I.D.?
After N.I.D., I worked with regional filmmakers for a while, assisting for films, working on scripts for television serials, etc. But I never considered a career in film. I always loved graphic design and illustration — I was doing it even before I joined N.I.D., and went back to working as a freelance designer.
"If you don't think too much about it, the ideas come easily. The moment you start thinking about how and where the ideas are going to come from, that's when you're in trouble."
When did you start working on your own graphic novels?
The impetus actually came from Comix.India, a comics anthology that was looking for contributions. At the time, I was staying in a small house in Bandra. There was a dog near my house who used to visit me regularly and try to befriend me, but I wasn't too sure whether it was a good idea, since I wasn't always home, and didn't know if I could commit to that extent. I thought of doing a comic book/story about this experience, called Et tu Brut? for the anthology. I'd previously worked on a graphic story called The Parrot's Tale when I was at N.I.D., and then worked on another one called I've Got a Bike.
At what point did you decide to release all your books under the Won-Tolla label?
I guess when you think about making your own books, you figure that you have to publish them all under some name. It all happened very quickly, though. The Comic Con in Mumbai (2012) was due to happen, and I wanted to release all my books there, so I had to get all my books ready, send them for printing, etc. in the span of a month. The deadline set by the Con really pushed me to get everything ready on time.
Why did you choose the name Won-Tolla?
The name comes from a Jungle Book story by Rudyard Kipling called Red Dog, about dhole — the red dogs of the Deccan. Won-tolla is the name of a lone wolf in the story. I really liked his whole persona, how he always fends for himself.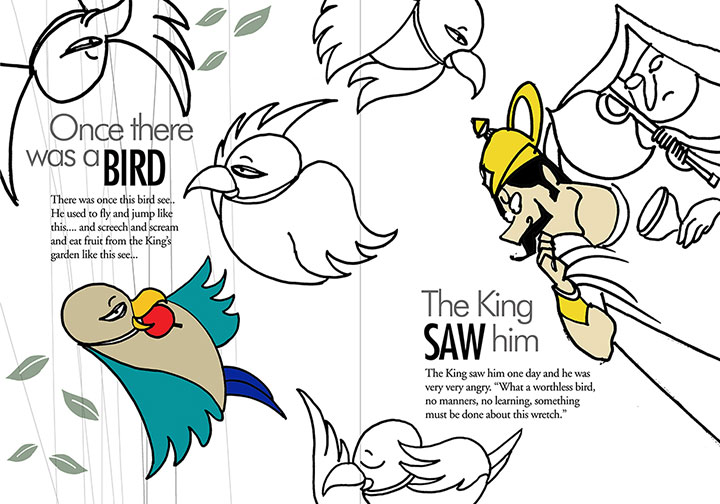 You've worked as a freelance designer and illustrator for many years. Have you ever worked out of your own office space, or have you always worked from home?
I've always worked from home. That's essentially where the name of my company comes from: Inhouse Design. I work in-house (laughs). Also, when you work freelance, you're basically a one-man-army, and you end up working very closely with the client — a lot of times, it's almost like you're working with them in-house.
Do you feel that as a one-man studio, it can be harder to pitch for projects sometimes? Do you think clients prefer to work with agencies rather than individual freelancers?
I think it's got a lot to do with the kind of work that you have in your portfolio. Even if you look at creative teams in top agencies, there are only one or two designers who actually work on each project. Sure, they may have assistance in terms of resources, but at the end of the day, it's still just one or two people who are working on a project.
What about accountability?
I know there are some clients who say things like 'what happens if you're not around tomorrow?', but the nature of your relationship with each client varies based on on the kind of project you're working on. Basically, you need to show that you can deliver whatever they're asking for. Beyond that, it doesn't make too much of a difference. I feel that a lot of times, freelancers can be a better option for clients than agencies — they are cheaper to hire than agencies, and will work harder, since their credibility is on the line.
"Freelancers can be a better option for clients than agencies — they are cheaper to hire than agencies, and will work harder, since their credibility is on the line."
Do you enjoy doing client work?
Yes.
Would you like to, at some point, stop doing client work and focus solely on your personal projects?
No. I think that both types of projects are good. My personal creative projects are very important to me. They are a big part of my life, and they keep me on track. But with client work — besides paying the bills and all that — essentially, you're using your skills for a business. You really get to understand what works where and how to communicate better, and that can only happen with a 100% commercial project. I think that's important as well — knowing how to use your arsenal of skills in different situations. I think everyone should do both.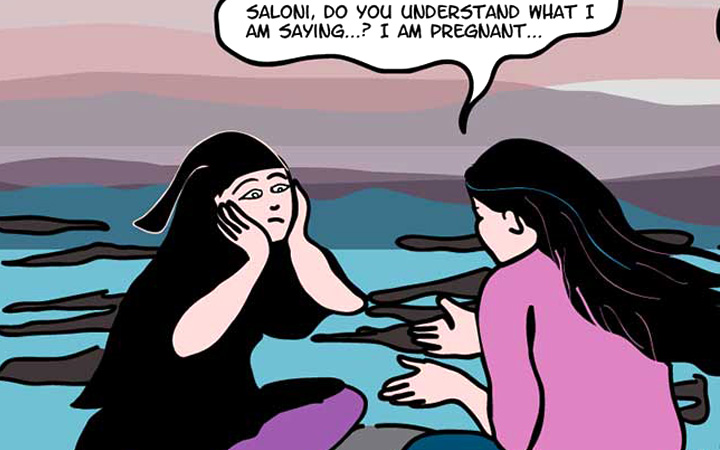 Coming back to comics: the Comic Con that was organised at Dilli Haat in 2011 was the first of its kind in India. The event has, since then, travelled to Mumbai and Bangalore as well. You've personally been associated with a number of Cons so far. What do you think about the idea of a Comic Con in India, and what do you wish was different about the events?
To be honest, I think the first Comic Con in India was 30 years too late. Comics conventions should have been here much earlier, and we should have progressed much further. Having said that, I'm very glad that there is a Comic Con in India now. At least someone has started it. It creates opportunities for a lot of people, which is a very positive thing.
As for the nature of the event itself, I think in India it's been more of a merchandise convention than a comics convention so far. Out of the 100-odd stalls that are put up at each event, only about 10-15 are solely dedicated to comic books. So in that sense, it's more of a Film and Comics Merchandise Con. But the organisers are the only ones doing something of this kind in India, so I can't complain. At least it exists.
Comic books about superheroes or mythological characters have traditionally dominated the market in India, but over the past few years, there has been a gradual shift towards more mature subjects and perspectives. Where do you think comics in India are heading?
That's a complicated question (laughs). I think we should give it another 10 years before we can even say that there is a market for comics in India.
"I think we should give it another 10 years before we can even say that there is a market for comics in India."
Do you think the audience for comic books in India is too small?
Yes. It's very niche. People don't like to read in the first place, and comics even less so. Especially here, where comic books are looked at as being solely for children. There are quite a few negative stereotypes associated with reading comics as well. We have a long way to go before we can say that we have a comics culture in the country. Plus there's no money in it for the publishers.
Do you think there is any scope for indie comics publishers to survive in India?
It's not a viable business, in my opinion — unless you're developing comic books into movies or something. For me, it's very simple. These days, you get titles by Vertigo selling for 70% off in stores. You visit the store on Day 1, and you visit the store on Day 30, and it looks the same. Not much has really moved. That gives you a good indication of where things stand. And Vertigo books are really high-quality stuff: I'm talking about books where you can see that the artists and writers have bled on each page. But they don't sell. I'm not sure how many people purchase digital comics either. At the end of the day, I think that making comic books is something you do solely because you love doing it, as a hobby — you do whatever it takes to get your stories out there.
The Setup / Chaitanya Modak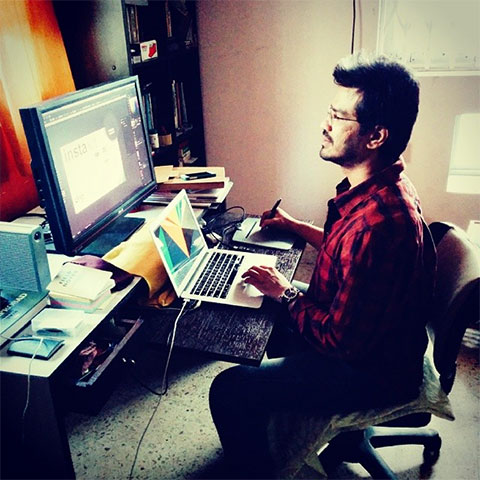 Chaitanya's workspace.
Laptop + Other Hardware
Apple MacBook Air 13" (mid-2012) connected to an Asus ProArt monitor — 24 inches of colour-calibrated, glowing goodness • An iBall Pen Tablet (I used the Wacom Intuos before, but it conked off after a year-and-a-half, and the iBall lasts for eight months for 1/6th the price, so do the math) • Lacie D3 2TB hard drive for dumping projects as soon as they are over • JBL Alienware speakers
Software
Adobe CS6
Stationery
Staedler 2B pencils • Camel ink • Assorted brushes • Black sketch pens