Currently residing in Punjab, Alisha Batth is perhaps best known as one of the first and most talented singer-songwriters to have come out of India's young indie music scene. She has studied at Berklee College of Music in Boston under acclaimed musicians such as Melissa Ferrick and Paula Cole, and her stark, powerful sound is inspired by groundbreaking artists such as Ani DiFranco and Patti Smith. Alisha has recently released her debut single Flood and is currently working on releasing her first E.P.
Read on for excerpts from a conversation with the 26-year-old about growing up in northeast India, learning to play the violin and the guitar, taking her time to write and release new material, song titles, and being part of India's music scene —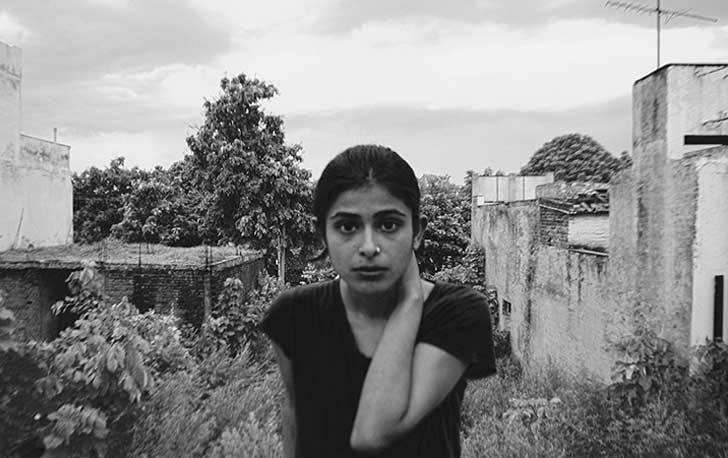 What is the one thing that you really wanted to be, growing up?
Honestly, I didn't think about any of that until I actually hit music—like, until I started playing an instrument and started singing. I was kind of a vague child. When I was really young, I had some random fantasies that everyone has, like 'I want to be a pilot when I grow up'—anything that came around and basically seemed exciting at the time, but nothing serious, obviously. Even when I started playing the violin, it didn't really seem like something that I could do for a lifetime.
Was that the first instrument you played?
Yeah. I learnt it in school. I wouldn't say I was great at it, but yeah, I knew a few things. I could play by ear a little bit. I think I picked up the guitar in class 12—that's when I really started to sing and everything. Actually, my first performance was of the song 'Nachna Tere Naal' by Jay Sean, Juggy D, and Rishi Rich (laughs). I played as part of the backing track, or whatever it's called. That was my first time on stage, and it was exciting, and that was when I realised that performing could be fun.
Did you grow up in Punjab?
Um, I was born in Punjab, but my dad worked in the northeast, in Arunachal Pradesh. We eventually moved to live with him—I think I must have been two years old at the time. All of my school education took place in Arunachal Pradesh, after which I moved to Delhi.
Could you talk about what it was like to grow up in Arunachal Pradesh? Did you like living there?
Yeah. It's actually the most inspiring place for me, especially now that I don't live there. It's honestly better than any other place I could have hoped to grow up in. It was a very simple place, we didn't have a lot of stuff around. I think even cell phone companies only came to Arunachal between 2001 and 2004.
What was your neighbourhood like?
It was very nice. I lived in this house that was at the bottom of a hill. There was a valley across from my house and a stream below.
That sounds amazing.
Yeah, it really was! I really miss that place. I actually moved a lot within Arunachal — I don't remember much from when I was really young, but I've lived in a number of places in the state. Most of my time was spent in Itanagar, though.
Do you remember any incidents from your childhood that may have played a hand in shaping you as a creative person?
I think pretty much all of it, just living there. It was everything about the place, in every way. I didn't spend my time watching T.V. or anything, I was outside most of the time. I remember playing a lot of badminton as a junior in school. There were a few courts around. It was… it was the only thing in my life that I really, really miss.
You mean the place?
Yeah. My father retired about three years ago, so we had to move back here, which is home, in a way… Punjab. After living in Arunachal Pradesh for so long, living here is really hard, just mentally. But it can be nice. It has its moments.
Was it a bit of a shock for you going from Arunachal to a place like Delhi, after 10th grade?
I had been to Delhi a few times, during my school holidays and such, so I knew Delhi, I'd been around Delhi. But living there was difficult in the beginning (smiles). I wasn't used to staying away from my family. Also, as a person, just… I don't know if there is a vast difference, but there is definitely a difference between growing up a big city, and growing up in a smaller place.
Just the amount of space that you have in a smaller town is significant, right?
Yeah. And I'm not saying... I'm sure there are all kinds of people everywhere, but it's just how much you're exposed to, and the kind of exposure you have. Delhi was a little overwhelming in the beginning, and there were so many people there. I mean, when I was in school in Arunachal, we used to have twenty people in a class. Even if that increased to twenty-five students, we used to be like, 'oh my god, the class is really full.'
(Laughs)
(Smiles) So, yeah, Delhi was a big change. There were forty-five, fifty students in a class, and the school had 6,000 students. And yeah, I was living in a hostel. It took me a while, but after a point I got really comfortable there.
Were you a good student in school and college?
I was never someone who really loved to study. But these days, my interests have widened in scope, and I honestly wish that I had paid more attention to things in school when I was younger, and maybe pursued them further.
What sort of things do you wish you had paid attention to?
Maybe science?
Is that something you're currently interested in?
I like geology a lot. I find it really interesting, all aspects of it. There were a lot of things that I didn't do when I was younger that I wish I'd known would come around to bite me (laughs). I'm sorry, what were we talking about again?
I asked you whether you were a good student.
I wasn't a great student, but I surprised myself sometimes, when I actually gave a shit.
Did you have a lot of friends in school?
I did have friends—I had very good friends, actually. School was great, but it was really weird. Growing up in Arunachal, or in the northeast, for someone who's not originally from the northeast, can be a little odd.
In what way?
Like, we talk about a lot of racism that takes place against northeastern people in Delhi, but I honestly think it works the other way around as well. If you're in a position where you can deal with it, or have something to offer, it works for you, but otherwise, well… I had some really hard times in school. I was this fat, Punjabi girl, with plaits and stuff, so it didn't really work in my favour always (laughs). I heard a lot of shit at school. I loved school, though, but it's just how things were, I guess.
"Growing up in Arunachal, or in the northeast, for someone who's not originally from the northeast, can be a little odd."
How did you come to start playing the violin?
We had this compulsory music class in school, so I just picked up the violin, because you had to pick an instrument and you had to be graded. But I actually enjoyed it. I played it a lot until ninth or tenth grade, but when I moved to Delhi, there was no one around to teach me further. I hadn't learnt the instrument through the basics of it, I had learnt it through the music that I was learning, so I was very bound to just what I knew. Since there was no one to help me continue, I just picked up another instrument.
Which was the guitar?
Yeah.
When did you first start singing?
When I moved to Delhi. But it wasn't like I was looking to pursue music in particular. I liked to sing for fun, but it wasn't something I considered very seriously. I was in a band in 12th grade as well.
What was your band called?
Er… I would rather not say what it was called (laughs). We used to play a lot of covers. In school in Arunachal, all the English music I used to listen to was whatever was popular at the time. When I moved to Delhi, I had a lot of friends who introduced me to classic rock, and that's what my band played as well. A lot of Black Sabbath and Guns 'N' Roses (laughs).
What was your role in the band?
I started playing bass guitar, after which I moved on to play rhythm guitar, and then I started singing for the band. We used to perform at school festivals and stuff. It was fun. We did well (smiles).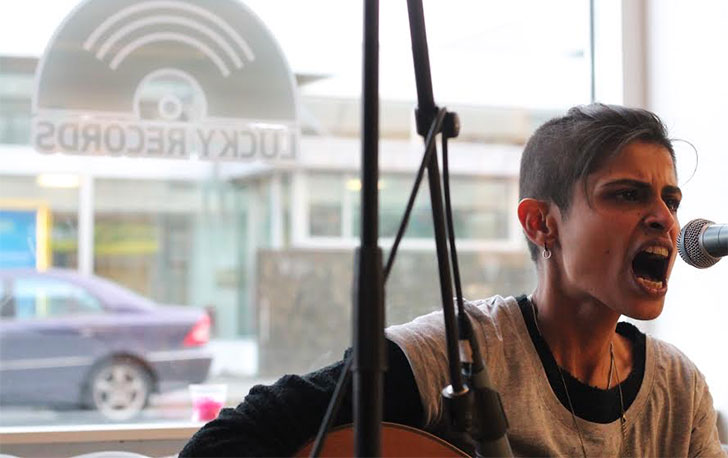 Did you like being in a band?
I did, but… I mean, it wasn't the greatest in a way that I'd say, 'oh my god, this was the best thing that ever happened to me'. I just liked playing music. I liked playing the guitar and I liked singing, more than I liked playing in a band, or in that particular band. But it was fun, in school, at least. In the band, I knew exactly what I was supposed to play, which songs and which parts, and I was learning. After school, when I moved to Bombay for college, I was on my own and I was confused for a while. But then I found some other stuff that took me in a completely different musical direction.
What direction was that?
I think I must have been around 17 or 18 at the time. I found artists like Ani DiFranco and Patti Smith and Melissa Etheridge, and that's mostly what I was singing and mostly what I was playing. I think I was just enjoying the power of, you know, how exciting the music was, and how good it was. I guess, in a way, that's why it's taken me so long to put out my own music. I think the years add a lot to how you think and how you see things. Sometimes, it's very easy to live somewhere, especially in bigger cities, and just be consumed by the place, and not have time to really work in a way that means anything. Honestly, for a while, I didn't know what to say, and I didn't want to put out just anything.
Did you have to work very hard at learning to play the violin and the guitar, or did playing those instruments come naturally to you?
I don't work very hard on a lot of things, but I did work very hard at those instruments. I spent a lot of time working on what I was taught. I even worked a lot at learning different styles of playing. Even when I look at a guitar now, it actually hurts me to know that I don't know every single thing that can be done with it.
"Sometimes, it's very easy to live somewhere, especially in bigger cities, and just be consumed by the place, and not have time to really work in a way that means anything."
When did you start performing solo?
I think I started playing live in 2008, I think, around a year after I moved to Bombay.
As a solo musician with not too much experience to back you up, was it hard for you to convince clubs to let you perform?
Yes. I remember going to what was called Jazz by the Bay back then, and they told me that they only let bands perform. I think the first proper gig I played at was at Hard Rock Café, which was thanks to this one contact I had at the restaurant. I think it was one of the bigger venues at the time, and I played there quite often. Eventually Blue Frog came up in Bombay, and if I'm not mistaken, I was the first cover artist to have performed at Blue Frog. By that point, I had a two-hour-long set. I eventually reduced the amount of shows I was playing, because it was getting very draining to play so many covers.
Do you see yourself as part of a scene? As part of the Indian Indie Music Scene? Or is it just there, and you're sometimes a part of it and sometimes not?
I know that I have been a part of it, but it became too demanding for me to be a part of it at one point, especially since I wasn't putting out too much of my own music. It got to the point where I got really tired of answering questions about why I wasn't putting out any of my own music, and why, and why, and why. I honestly didn't have any answers other than it just didn't feel right at the time. The easiest thing is for someone to just expect the other person to deliver, but everybody's process is different. For me, it felt very draining to be in the scene. And the thing is, I wanted to write my own music as well, but it got to be very frustrating because even when I'd write my own songs, they didn't feel like they were good enough. I don't want to leave bad footprints or traces of things that I can look back on, you know? I wouldn't say that I haven't done that, but I would be very happy if, even after this point, I've released only two songs, because I actually love them. I'm very happy with them. Honestly, that's okay with me. I don't think it matters whether or not you're constantly putting out music. Well, I guess it does matter in a way because that's the way the world works right now—you're constantly throwing things at everyone, and trying to stay visible. But I think you shouldn't keep throwing things at people just for that reason. The music scene is great right now, but I don't think I'm currently a part of it. I live in Punjab, I stopped playing live a while ago, and I'm very independently putting out music and I'm happy with that.
Over the past few years, there have been a number of new platforms for musicians emerging in India, in the form of music festivals like the NH7 Weekender, amongst many others. In your opinion, how important are these festivals for new musicians trying to enter the scene?
I think they are fantastic. I think it's great that there are so many festivals happening, but I'm not sure how many talented new people are getting spots at these festivals. Sometimes, I feel that everyone [in the scene] is just way too close to each other to really look at the bigger picture (smiles). But it's obviously a good thing—the more festivals there are, the more spaces there are for people to perform and to expose themselves to more audiences.
As you said earlier, being a musician these days requires you to have a presence on social media, where you try to stay visible, keep putting out new material. Is that why you recently created your own Facebook page?
Actually, someone else (that I didn't know) created the page, and I just begged them to make me the moderator, so I could have more control over it (laughs). I just didn't have a way to interact with listeners before that.
Why has it taken you so long to create a Facebook page, though? These days, it seems like the first thing musicians or bands do is to create a Facebook page, an Instagram profile, a YouTube page for themselves, to make it easier for fans to find them.
(Laughs) The answer to this question is the answer to so many other questions, like why I haven't signed up with an artist management agency, or why I haven't done this or that. So far I just haven't felt like I have that much to share. I mean, do I put up photographs of myself? (Laughs) What do I put up on my page? I took over the Facebook page when I actually had new music to share. I didn't see the point of having a page otherwise. I do understand it now, sure. It creates more interaction, and it gets you out there a lot quicker, but honestly it didn't make sense to have my page if I didn't have anything substantial to share on it.
"The easiest thing is for someone to just expect the other person to deliver, but everybody's process is different."
You've recently released a single titled Flood. Is that something you've wanted to do for a while?
I actually did the whole thing overnight. I recorded both the songs from the single in my store room. I had very little space and I had to do it very quickly, because I had to send them for something else as well.
Where did you have to send the songs?
Um, I can't say (laughs). But yeah, that kind of pushed me to record them quickly. There was no time to think of maybe getting a band to do some parts or eventually recording it in a proper studio or anything like that. I would have probably liked that, but I had very little time.
Yeah, it's pretty much just you and a guitar, right?
Yeah. Like I said, I basically recorded the songs for something else, but I thought, why not put them out? I mean, I can't keep waiting. And the process helped me realise that I work really well on a deadline (laughs).
Why did you choose the name Flood for the single?
I chose the name Flood for the single because it's the first time I'm putting out something in forever, and it's like a dam breaking, kind of like a flood. Does that make sense? (laughs) I'm also recording an E.P. with some friends, which I'm excited about. Actually, it's been recorded already, it has five songs, and it's being mixed right now. And the songs will be performed by a full band.
Do you have a name for the E.P.?
No (laughs). I actually don't even have names for all the songs yet. I just feel like that's something I should think about at the end of the process.
Do you think names are important? Some musicians don't really think too much about the titles of their songs.
I do think titles are very important. I know that I skip songs sometimes because they don't have great titles. I'm not saying that it has to be the greatest title or mighty sounding, but it has to make sense and be creative, without going over the top.
Are you planning to tour the country, or maybe even internationally?
I would love to. Right now, I just want to perform live as much as I can, just get all the material out. Just play. Even the stuff that I'm not releasing right now, I have a lot of new material that I'm just excited to play live.
Are there any artists in the country at the moment that you feel excited by?
I love Sulk Station. I think Peter Cat Recording Co. is great. I haven't been listening to a lot of music, but I keep listening to what comes around. But these two artists I genuinely like.
Are you open to collaborations with other artists as well?
Sure. Definitely. At this point, I am. With me, the major difference between two years ago and now would be that now I can work with people, because I feel like I have something to offer. At this point, I'm just trying to figure out how to get my music out. I think the more visible you are, being seen in social circles, I think that's an important part of being a musician these days.
Do you like that aspect of being a musician? Constantly promoting yourself? Is that something you feel comfortable with?
Yeah. I mean, I know that I need to do that. I can't be dumb about things. Earlier, I just didn't have a reason to promote myself too much, but now I do. And I want to play shows as well, but these days, finding venues that pay as much as they should pay is hard. It's come to a point where you'd rather play for free, because it's pretty much the same thing, and I don't want to do that. I've done enough of that when I was 18, 19 years old.
Do you have any sort of plan for the next few months, to promote your new material?
Right now, I don't think it would be the wisest plan to continue living in Punjab. It's been very good for my creativity, but I'm thinking of moving to Bombay soon. Once I do that, hopefully it won't be too hard to become visible again (laughs). I'm not too worried, though, because I know the music's really good, and it's going to speak for itself.
The Setup / Alisha Batth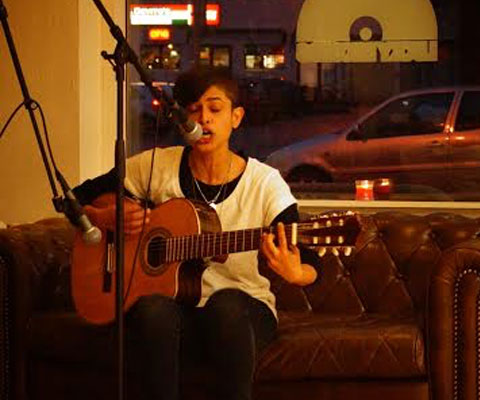 Alisha Batth.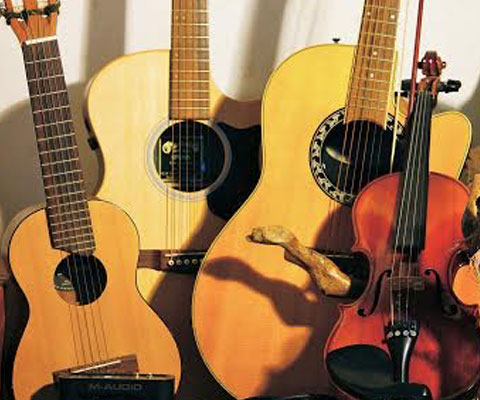 Alisha's instruments.
Tools of her trade
Yamaha Guitalele • Martin Acoustic • Ovation Applause • M-Audio FastTrack audio interface • Some wires • Microkorg XL • A violin that she rarely uses at the moment • ProTools • GarageBand (sometimes)