To say that Aditi Ramesh has had an interesting relationship with music would be to put it very mildly. The 28-year-old singer, musician, and songwriter grew up in Buffalo, New York, and was trained as a Western classical pianist and classical Carnatic vocalist for a number of years, before a drastic change in her circumstances prompted her to give up music altogether. Years later, she went on to study law in India, and quit her job at one of the top law firms in the country towards the end of 2016 to reforge her relationship with music. 2017 was a life-changing year for her — it marked the beginning of her career as a professional musician and introduced her huge, magnetic voice to concert-goers around the country as part of several unique and refreshing musical projects.
Read on for excerpts from a conversation with Aditi about her early years, the various projects that she's a part of, her songwriting and work ethic, getting more women to pick up instruments, the indie music scene in India, and her dream of conducting a full orchestra someday—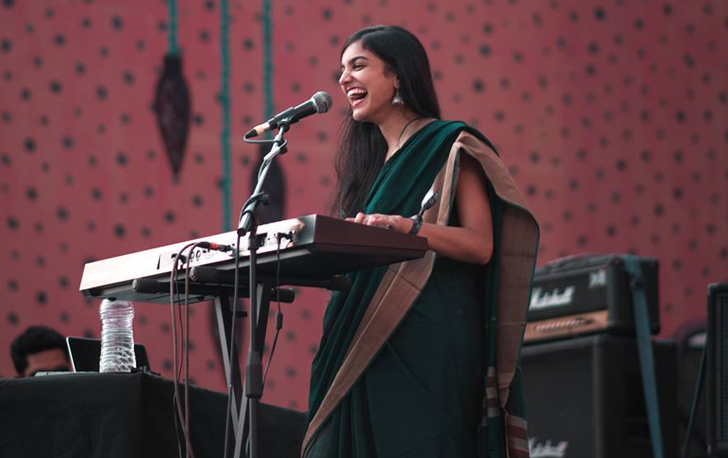 What sort of neighbourhood did you grow up in?
I grew up in the U.S., and came to India during high school — both are very different neighbourhoods. I grew up in Buffalo, New York, the suburbs. It's pretty much like what it looks like in the movies — the houses all look the same (smiles).
Did living in Buffalo influence you as a creative person in any way?
I didn't know that I was going to do this [music] back then; I didn't even know if I was going to do it a few years ago, so I don't know if it really influenced anything. But when I was a kid, that's when I started learning music. No one else in my family is a musician.
What kind of music did you start with?
Basically, my parents used to listen to a lot of music at home, so I started singing when I was two years old. It was mostly Tamil and Hindi film songs. I started learning the piano when I was five, to when I was fifteen — Western classical piano. I also learnt Carnatic vocals, but I really resisted that. I didn't want to do it.
Why is that?
Because I was a kid! My parents were like 'she's singing, so we should put her in these classes', but I didn't really want to do it. Also the classes used to happen when the other kids were playing and I didn't like that. Anyway, I realised the worth of those classes later (smiles).
When I moved to India, all that completely stopped. For more than 10 years, I never even touched a piano. I sang a little bit in college, but never took it seriously. Later, after I became a lawyer, that was when I properly went back to it — but even then, I didn't really have enough time to give it.
Were you close to your piano teacher?
Yeah, I was close to my piano teacher. Her name is Emma, she's Russian. She taught me very proper, classical Western piano. She was Russian and she had a very fiery temperament, in that she may be playing the same thing that everyone else was playing, but it wasn't clockwork. There was a lot of emotion, there was a lot of modulation. She put a lot of herself into the music, which is something that did influence me. She made me see that even though technically you may be playing the same notes, that it was possible to sound very different.
How old were you when you moved to India?
I was 15. I lived in Bangalore.
What was it like to live in Bangalore?
It was a huge adjustment. It was a very awkward time, anyway, being in the middle of high school, and moving to a new country and having to adjust to new people, a new culture, a new curriculum, all of that — it was a weird time. I was really angry with my parents at the time. I don't know if or how that time really influenced me, but I guess conflict always influences art, so all of it put together probably made a difference.
Did you always want to study law?
No. I knew that I didn't want to study medicine or engineering, like my parents. I dropped chemistry in 11th grade and took up political science, which I really liked. That's what made me think of taking up law.
You mentioned that you played a little bit of music in college: what made you decide to pursue it more seriously?
Yeah, in college, it wasn't serious at all.
Were you in a band in college?
Yeah, we had a 'batch band' (laughs). I studied at the Nalsar University of Law in Hyderabad — most years, we had an intra-college fest, not even an inter-college fest. One year we had an inter-college fest and we had an exhibition band from our college, and I was the singer for that. The batch band was not the greatest (laughs).
Did you guys have a name for the band?
It was called The Wreck Room (laughs), because we used to practise in the Rec room. But it was fun, it was good — it was the first thing that got me back to music, and the people from that band are my friends for life.
Were you playing the piano in the band as well?
No, I didn't even touch a piano until I had worked for a year-and-a-half as a lawyer. It was so long ago [that I learnt to play] and there was such a huge gap that I was convinced that I didn't know how to play it any more.
"I found that when you're just a singer, you're very dependent on the people who are playing the instruments for you. Singing alone doesn't really go very far."
What brought you back to playing the piano?
Um, the law firm life. I always felt like a misfit there. I don't know... I met a friend's friend, and we were just talking and he was into music, and I mentioned that I used to play music as a kid. He mentioned that he had a keyboard at home and that I should borrow it — that guy, incidentally, is my bassist now. He actually got me back into it. Since the instrument was brought to me, I started fiddling with it. What I found was that when you're just a singer, you're very dependent on the people who are playing the instruments for you. Singing alone doesn't really go very far.
Around the time, I had also started jamming with a few people occasionally, and I got the feeling that the guys I was jamming with weren't very enthusiastic. I don't feel that now, because now I play with professional musicians, but in general, back when I just wanted to jam with the guys, they just wanted to hang out and not really play music. That was frustrating, and that's actually what led me to start Ladies Compartment.
When did you start writing your own music?
I think when I was around thirteen? Fourteen? It was the usual embarrassing pop songs you write when you're a kid that you don't want anyone to hear (laughs).
Do you still remember any of them?
Yeah, they're very embarrassing, I'm not going to talk about that (laughs).
When you started jamming with people after college, were you also thinking about writing your own music?
No, it was just a release. That was just... I just hadn't done any singing for so many years. I didn't think about writing, I didn't think about it as a profession. I guess I did write some music with some of the friends I was jamming with, but it wasn't really taken seriously by them.
When I got the keyboard, I started writing angry blues songs about work, a bunch of them (laughs). Just having the instrument, it felt good to be able to play something alone, and not having to depend on anyone. That kind of laid the foundation for my solo project — I write the songs and the music, and I get great musicians on board to support me, but it's my ideas and my sound. I'm not dependent on them, but they complete my sound.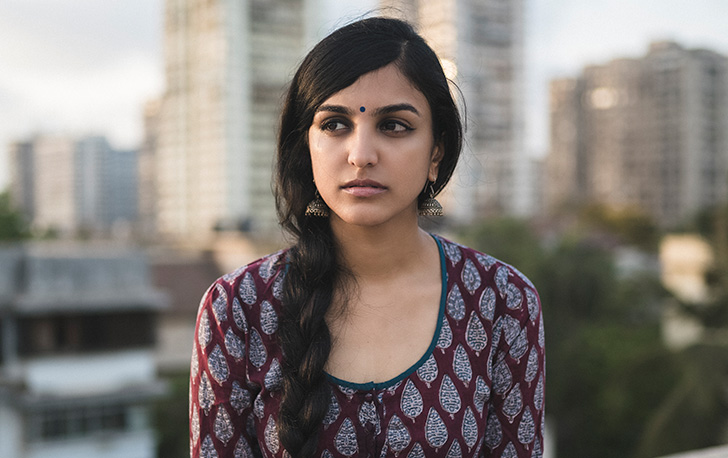 Tell me about Autocorrect, the E.P. that you released.
It's actually a long story from there to the E.P. The first gig that I played in Bombay was part of a competition for singer-songwriters. I was still a lawyer then. I sent in a phone recording of one of my songs called 'Working People's Blues' — I didn't know much about recording songs properly, but I won the contest and I played a solo 30-minute set at Kitsch Mandi. After that I had a band of lawyers called The Typos, and we did two or three gigs — again, that wasn't a very serious project, but all of these things slowly built my confidence.
When I quit my job in December 2016, I didn't have a plan, but I knew that I was taking up a day job and my only aim was to get back to music and to practise in the extra time that I was going to have at the new job. The same guy who gave me the keyboard three years ago [Keenan Thomas] — we kinda lost touch — we met again, because he'd also quit his corporate job and he was going to go to the Swarnabhoomi Academy of Music. We both quit our jobs at the same time to get back into music. Keenan was studying music production and he's the one who produced my E.P.
This is also around the time that I had started Ladies Compartment, but it wasn't quite what it is now. It was just me, Nandita, who played bass, and Kirsten on the violin. The three of us were just jamming, and since Keenan was learning music recording, he offered to record a session for us. So the people who founded nrtya, who manage me, their house doubled up as a little studio, which is where Keenan recorded us. nrtya had just started then, and they liked my music, and they pitched the idea of managing me — I guess that's when I became a professional musician.
Once they started managing me, they wanted me to get my music out, and they really pushed me to do it fast. I'd say my E.P. was put out in record time, and it was made with a budget that most musicians would find unimaginable. There was so much hustle, there were so many favours involved. It was great. I finished recording the E.P. in about... two months? That included writing and recording everything. Friends of mine did the artwork for the E.P., Keenan recorded and mixed the album at a low rate. The entire cost of producing my E.P. was about INR 30,000, which is unheard of.
Wow, yeah, that's nuts.
Yeah, that doesn't happen. And I had no clue at the time: I was like, why do I have to pay that much for an E.P.? (laughs)
(Laughs)
Now, I'm like, wow, that was unbelievable. But yeah, nrtya really pushed me to get the E.P. out and it was like exam pressure, where you're doing that last-minute thing and something great comes out of it. We released the songs one by one, but by the time the first song was out, I had already started playing gigs.
"It was like exam pressure, where you're doing that last-minute thing and something great comes out of it."
What sort of venues did you start playing at?
I think my first gig was at Verbena at Kamala Mills. I think my first nice gig (laughs), which happened right after that, was the nrtya launch at Razzberry Rhinoceros. For my first two gigs, I played with a friend called Nathan Patra on the guitar — he was one of the guys I spoke about who I jammed with, and they weren't very serious?
My band kind of came together when I went to play at SoFar in Pune. So me, Keenan, Ishan, my drummer, and Mohit, another friend, we had put together a jazz band just to jam. We didn't really have any plans, but when I told them about the gig in Pune, a few of them were going to be in Pune around the same time, and I was like... do you guys just want to play with me? And I had never thought that my sound would be drum and bass and keys, but at that gig it just clicked. We hadn't even really practised. I realised that earlier I had been playing with guitarists, and the guitar and the piano just clash, unless it's a big band setup with a big sound. But with my most minimal setup, drums, bass, and the keys just work, and then they started playing with me after that.
Of course, now I'm building towards a larger ensemble, experimenting with guitar, tabla, backing vocals. I want to add other Indian instruments as well. I think a bigger band makes sense when you want to do justice to larger stages at festivals like NH7 Weekender.
How did Ladies Compartment become what it is now, from when you were just a jam band?
My best friend goes to this church, called New City Church. I also go there from time to time, because I love the music and it gives me peace of mind. I play there as well, sometimes. So the church had a party, where everyone was playing non-church music. I played a little set there and met this girl, Kirsten, who was a violinist. She was in India for six months — her day job was playing at Bollywood weddings. She heard me play, and she was very proactive — she said we needed to play together. Having an all-girl band was a childhood dream for me, but I didn't think that would ever happen. And I saw Nandita play bass at the same church. She's not a professional musician (outside of Ladies Compartment), and she only plays at the church —
Wait, she's not? She's amazing.
Yeah, she's amazing, and she's completely taught herself, and grown as a musician. When I saw her playing, I knew I had to get her to play with us. She was so unsure of herself at the time, but we just told her that she was coming and jamming with us (laughs). We played our first gig together at Tuning Fork. Before the gig, Nandita didn't even have her own bass guitar — she learnt to play bass on an acoustic guitar at the church. She runs her own architecture and interior design company. She bought a bass guitar for that gig, but after that gig, Kirsten went back to the U.S. and we kinda stopped playing after that. Right after this, nrtya and all that stuff came together, and some time after that, we spoke and decided that we needed to revive Ladies Compartment — it's a great project and a great way to encourage more girls to take up music.
This was last year?
Yeah, last year. Everything happened last year (smiles). The Ladies Compartment gig was in February, nrtya started for me around March, April, which was the start of my musical journey, and later in the year, I put out a post calling for musicians to play with Ladies Compartment. Our drummer Aarifah [Rebello] responded to that, and Ramya [Pothuri] had been introduced to me through Kirsten some time before that. We started jamming together in November, and we started playing gigs in December, so we're fairly new.
Is the band lineup for Ladies Compartment fixed?
The core of the band is fixed, with the four of us, but we do invite other guest musicians to play with us from time to time. It's a project where we want to encourage more girls to take up music, especially to play an instrument, because it's something that's not always encouraged. Sometimes, people treat girls who play instruments differently — they just assume that they're not as good as guys who play those instruments, and a lot of girls don't pursue music because of that. It's a little harder as a girl [to be a musician], you have to fight harder to do it.
You're currently involved in a bunch of music projects. Would you care to list out all of them?
I have my trio — the Aditi Ramesh Ensemble — and Ladies Compartment. I also have Jazztronaut, which is the jazz quartet, which shares a few members with my solo project as well. That is more of a live project, so we don't really look to market the band or record music; it's all about really fun live gigs and improvising on stage. I'm also in Voctronica, which is the most recent project I've been involved with.
"People treat girls who play instruments differently — they just assume that they're not as good as guys who play those instruments, and a lot of girls don't pursue music because of that. It's a little harder as a girl [to be a musician], you have to fight harder to do it."
How challenging do you find it to juggle all these projects?
I like it (smiles). The thing is, they're all in different spaces. With the Aditi Ramesh Ensemble, it's about putting myself into the music and my self-expression. Ladies Compartment is about encouraging more girls to take up music and focuses a lot on vocal harmonies and groovy drum-and-bass. It's in a different space to my own project, which is more improv, more fusion. Jazztronaut is all about live jazz, and Voctronica is about working on vocal techniques and using sound in different ways. Since they're all so different, they don't get confused in that sense, but each of them teaches me things that I then apply to the other projects.
I imagine it must get a little crazy in terms of managing your time.
Time... (laughs)
What's a typical week like for you?
I don't have a typical sort of week (laughs). I found a jam room on the same road as my workplace, so Ladies Compartment jams usually happen early in the morning, and then I walk to work.
How early in the morning?
From eight to ten. Sometimes we jam from seven to nine as well. The other people live closer to the jam room than me, but they don't have to go to work after the jam. They do this for me, and I really appreciate it. It's really nice of them to wake up early when they don't have to. So, yeah, it's the early morning jam, and then a full day of work, and Voctronica and Jazztronaut practices happen in the evenings, usually from 6 to 10 p.m. Sometimes there are gigs in the evenings, or video recordings, or interviews... I mean, there's a lot of stuff (laughs).
Weekends are full days in terms of practice as well — there are no Sundays. It's a lot of work. People don't understand how much work goes into it. If the work doesn't happen, then you don't take any of the projects forward. I know so many great, talented musicians, who just like to chill and sit on so many projects, but to really take things forward, you have to put in the work. But if you really love it, it doesn't feel like work.
Do you consider yourself to be a super-disciplined person?
I never was (laughs). But I am, now that music has become my main thing. Law was never for me. I have a routine in place. One reason I hold on to my day job is that it gives me a little discipline, in the sense that I really value my free time, and I never waste it. I would like to practise on my own a little more, but with all the projects, that doesn't happen often.
Being a part of so many different projects, is burnout ever an issue for you? Are there ever days when you just say, fuck it, not today?
Some days are like that, but then I just take a break and I do nothing. But if I look back at the past year, there have been very few days like that. I think I was just on throughout the year, it was a little crazy.
Was that a new experience for you, personally?
Yeah, I've never worked so hard in my life. I was always the has-potential-but-doesn't-live-up-to-it kind of kid in law school, in my law firm... everyone always knew I was smart, but I didn't apply myself.
What do you think prompted that kind of switch?
I don't know, I just threw myself into it [music] and it just felt right. I was amazed; I didn't believe the kind of stuff I was writing, the kind of stuff I was playing live, the way I was able to articulate things. Now, with building a larger ensemble, you need to be able to communicate how you're feeling, what your ideas are to a lot more musicians and they need to be on the same page and everything needs to be cohesive. Playing with more and more musicians is a very good exercise. My eventual dream is to have an orchestra playing my music and I won't even be playing in it — I just want to conduct it.
"My eventual dream is to have an orchestra playing my music and I won't even be playing in it — I just want to conduct it."
How do you approach your songwriting?
I always have ideas in my head. I forget so many of the good ideas that I have, or I half-write songs and then I forget about them. I record those ideas sometimes, whenever I can remember to, but I don't sit down and try to write songs. When I try to do that, the ideas and inspiration don't always come — they come whenever, not just when you want them to. I don't really have a method — I just sit at the piano and let my hands go wherever and it just happens. Just going for it, improvising, taking from it what makes sense, and then refining it.
Are there certain topics or themes that you like to write about?
Sometimes I will come up with a riff or pattern, and the song will end up being about what that means to me or how I feel about it. But I also have a list of topics that I want to write songs about. I like to write about everyday things that everyone can relate to instead of larger themes. It's fun.
What are some of the topics on that list?
There's one called 'Phone, Keys, and Wallet'.
(Laughs)
(Laughs) One of them is... so there's no lift in my building, and every night, it gets really dark. At times, there are rats in the corridors. Rats freak me out — I turn on the torch on my phone and wave it around, and sometimes I think, if someone saw me doing this I would look really ridiculous. So I want to write a song about that, called 'Chuha', which is comical, with a choir singing.
"The 'music scene' is overrated."
Is it important to you as a creative person to feel like you're part of a community? Do you see yourself as part of the music scene in the country?
I feel like the phrase 'music scene' is very loaded. There is this scene that is very prominent. It's very dominated by people who have been in the scene for a long time. There is a concept of seniority, and they don't always like new people coming in. It's weird, it's almost like high school. Rather than the music scene, what is definitely important to me is collaborations with other musicians. I like that my band is full of underdogs — no one is an 'established' musician. Everyone could be underestimated, but everyone is really good. I really like that aspect of it. The music speaks for itself. The fame, the recognition, all of that aids it, but that's not the point, that's not why I do this. The 'music scene' is overrated.
For young people who want to be musicians in India: what is the one thing you would tell them not to do?
Don't depend on your parents for money — it's not going to mean as much to you. I know a lot of rich kids or kids whose parents support what they do, many of them don't put as much heart into it. Try to support yourself, be self-sufficient; that's how you see it as your profession, and not just as a hobby, or something you do just for fun. Don't be afraid to have a day job when you start. My day job allowed me to not compromise on the quality of my gigs. I've done about 55 gigs in my first year and all of those felt like quality gigs. There were no gigs where I felt like I had to play them to make money.
Also, nowadays, music, musicians, the scene is sort of helped a lot by social media. You should realise that all of that stuff is required to get your stuff out there, but it's important not to get carried away. A lot of it is illusory — don't get caught up in the media hype because it can stifle your growth.
The Setup / Aditi Ramesh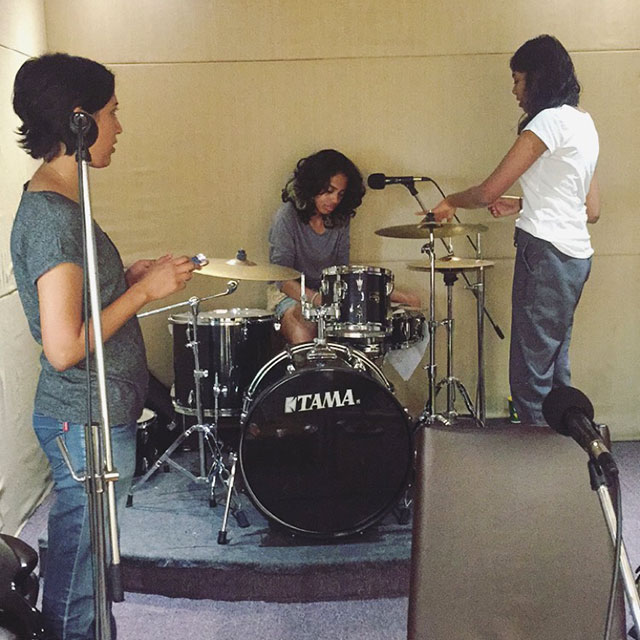 At the R & B Jam Room in Andheri, Mumbai.
Hardware + Software
Aditi uses a Roland XPS 30 keyboard and Ditto TC Helicon mic looper, and loves old school SM 58 mics for performing. She considers herself to be a complete novice but has at times used an Ableton Push/ Akai APC 40 to launch clips from Ableton/ live looping. She hasn't yet taken Ableton live looping to the stage yet, but hopes to soon. For now, her live looping is done with the Ditto pedal.